Lionel Messi
How Messi became the world's deadliest goalscorer
Ignasi Oliva Gispert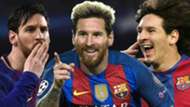 Lionel Messi has come a long way since the spring of 2005, when he hit the net for the first time in Barcelona colours.
In the 14 years since making his debut for the Blaugrana the Argentine wizard has become, alongside Cristiano Ronaldo, perhaps the deadliest goalscorer the game of football has ever seen. 
Those present for the strike that opened his account against Albacete, this writer included, were aware that history was in the making. Messi had shown from his Juvenil A days in La Masia that he was marked for greatness. 
But while it was easy to imagine that plenty of goals would follow in the future, nobody could have envisaged them coming by the hundreds, and records falling by the dozen.
The bare statistics do not lie: he is the greatest scorer in both Barcelona and Spanish history. 
Messi has now smashed 383 goals in La Liga, more than Alfredo Di Stefano, Telmo Zarra or any of the other illustrious names that preceded him.
While he has netted in almost every way possible, a pattern was nevertheless established right from the beginning; his first goal, and roughly eight of every 10 scored thereafter, came from his magic left foot. His partner-in-crime not just in the area but when needed to dance around (or through) defenders, or ping impossible passes to the feet of his grateful team-mates. 
The right foot, however, is far from useless. Messi has hit a total of 57 with his 'weak' limb, including goals in all but two of his professional seasons.
Messi has even learned to use his head, albeit not quite as effectively as his great rival Ronaldo. After being forced to wait until 2008 for his first headed goal, Leo finally broke his duck in the summer of that year, when he also got his hands on the No.10 jersey, which was formerly the property of Ronaldinho. 
While the Argentine's scoring record has always been impressive, the switch to No.10 coincided with a marked improvement in his ability in front of goal.
The zenith of his powers came in 2012, when he smashed an incredible 50 strikes in a single La Liga season to blow Hugo Sanchez's long-standing record of 38 out of the water. The following season saw him score 46 times in the league, now with an added weapon in his repertoire from set pieces. 
That watershed 2011-12 was the first in which Leo managed more than one goal from a free kick, and his potency standing over the ball has only increased in the years that have followed. The current season has featured no less than six free-kick goals, a new personal best for the Rosario native with one game remaining. 
Whatever happens on this final weekend of La Liga, when Messi and Barca welcome Real Sociedad to Camp Nou, a sixth Pichichi top scorer trophy is already assured for the Catalans' ace marksman. As is the Golden Shoe, unless Lazio's Ciro Immobile somehow outscores his rival by six in Serie A. 
Those individual awards simply prove once more what we all know by this point: while Messi was fated to become a superstar from the very start, few could have guessed he would also become the bane of goalkeepers across Spain and the world.