FA Cup
Chelsea still aiming for the double, says Gary Cahill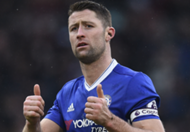 Gary Cahill is preparing to lead Chelsea out at Wembley against Tottenham in the FA Cup semi-final and he insists the dressing room has begun to dream of winning the double this season.
Chelsea face their fiercest 2016-17 rivals on Saturday, who are running them close in the league too after the Blues dropped points in a 2-0 loss to Manchester United on Sunday.
Martial's Man Utd dream fading
Antonio Conte will be keen to banish the disappointment of a league defeat in the cup and Cahill hopes victory this weekend could lead to a glorious finish to the campaign.
"That's our aim [to win the double]," Cahill said. "It is going to be a great tie. I think for the neutral, it is a terrific semi-final of teams left in the competition. One to look forward to, one that will add importance.
"It adds importance, as games against Tottenham always are. We will be ready for it and we will look forward to it. It adds a little bit but no matter who you come up against, it is a semi-final at Wembley to get to the final.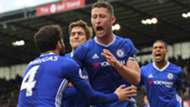 "We should be preparing in the same way, doing the same things. It is great to be back at Wembley. It is a great stadium to play at." 
Cahill has been ever-present in Chelsea's starting line up under Conte this season. He has made 37 appearances and he has taken over on-pitch captain's duties from John Terry, who's become a squad player and will leave in the summer. 
Arsenal and Manchester City will face off in the other FA Cup semi-final and Cahill doesn't believe that Spurs are the toughest possible draw for his side as four domestic giants compete for glory. 
"Listen, it is four top teams in there," He added. "They are four massive clubs, massive teams. I don't think it was the hardest [draw] or easiest. Any draw would have been tough. We would be speaking about any of them in the same way.
"We have got Tottenham. There's going to be a little added with the London rivalry but it is a route to the final. Whoever wins it will deserve to win it, with the strength of the teams in the semi."