Cristiano Ronaldo
Casillas: Real Madrid fans jeering Ronaldo is madness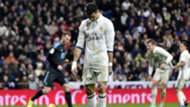 Real Madrid supporters' constant jeering of Cristiano Ronaldo is a form of "madness", according to the club's former goalkeeper and captain Iker Casillas.
Robinho says Madrid blocked Chelsea move over shirt sales
The Portugal star is coming off the back of a wonderful 2016 in which he led Madrid to Champions League glory before winning the European Championship with Portugal and then lifting the Club World Cup with Zinedine Zidane's men. Ronaldo then went on to win the Ballon d'Or and FIFA's inaugural The Best Men's prize.
However, after seeing their record 40-game unbeaten run, the club's fans have repeatedly whistled and booed their players, with Ronaldo being singled out due to some poor passes early on against Real Sociedad, before he scored one and set up another in Sunday's 3-0 win.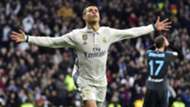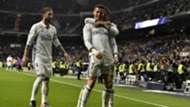 Casillas, who suffered the wrath of the Madrid fans towards the end of his time at the club, is confused by such an irate reaction to the team's star man, insisting the fans must help him.
"These things happen in stages, Cristiano sells a lot, and demands a lot of himself," Casillas told Onda Cero. "Along with Lionel Messi he is the best in the world. He has this responsibility.
"As a Madridista, sometimes you don't understand why it can happen. Six months ago Madrid were European champions, one month ago they were world champions.
Dembele flight photo sparks Chelsea rumours
"He has just won the trophy as the world's best player. Last year I remember a difficult moment before [Rafa] Benitez left. Then at the end of the season they were in the clouds with the Champions League.
"If he scores two or three goals a game, that is just what he is supposed to do. It is madness. You must help him - have people around him and the club who help to protect the players. He must continue trying to be the player he is, the best in the world."
Ronaldo has scored 20 goals in 25 appearances in all competitions this season, though with 13 in the league, he sits two goals behind Messi and a further goal behind top goalscorer Luis Suarez.