AIFF Super Cup
Super Cup 2018: Jamshedpur FC's Steve Coppell eyes opportunity to beat FC Goa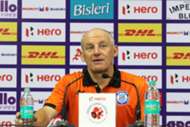 Jamshedpur FC face FC Goa in the third quarterfinal of the inaugural Super Cup at the Kalinga stadium in Bhubaneshwar, Odisha, on Thursday.
Jamshedpur FC got the better of I-League reigning champions Minerva Punjab in their pre-quarterfinals clash that had to be decided via a penalty shoot-out after 120 minutes of footballing action.
"We had a long time to recover from that match (against Minerva Punjab). Physically, we are fine. We have no problems with any player. [I am] not really pleased game is at 4 o'clock (4 pm) but it's the same for both sides," claimed Jamshedpur FC head coach Steve Coppell. 
"We are looking forward to the game. Obviously, Goa beat us twice this year (season). So it's an opportunity for us to try and win the game," he added. 
The Goan side, with the full-time scores reading 2-1 and 3-0, emerged victorious when the two teams met in the recently concluded Indian Super League (ISL). 
However, the former Kerala Blasters manager refused to regard the 3-0 defeat as a "real game" while denying the motive of any sort of revenge.
"Revenge is not the right word. I don't consider the 3-0 (defeat) a real game because we lost our goalkeeper after eight minutes," he rued, as it was the moment when Subrata Paul handled the ball outside the box for which the Jamshedpur goalkeeper received direct marching orders.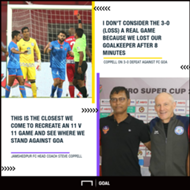 "It's not a good idea to play 10 against 11. We'd just like to see what the game would be like 11 v 11. So this is the closest we come to recreate an 11 v 11 game and see where we stand against Goa," Coppell stated.
The 62-year-old went on to mention that there is nothing much a team can do differently to approach a 4 PM IST kick-off game.
"It's difficult to try and change strategy. The easiest thing to say is to try and keep possession of the ball, but when you have possession of the ball, you have to work hard to keep the ball. The inference is that when you don't have the ball, you work even harder. I think you'll find that teams who have possession work more than a team who don't. So I don't think that there is a strategy to make it easier at 37 degrees (Celsius). 
"I think it's wise that we have a break at 20 odd minutes so that players can recover. Ideally, we would be playing this game in the evening, but because of whatever circumstances we can't.
"So we just accept it and will play to the best of our ability and physicality. The fact that the match is at 4 o'clock makes no difference to what we will do or in terms of style of play," Coppell explained.