NPFL
'Our case is different' - ABS' Makinwa seeks Enyimba fall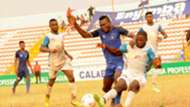 ABS FC Henry Makinwa has revealed his side is capable of maintaining their home winning streak when they host Enyimba at the Kwara Township Stadium.
The Ilorin-based outfit suffered their biggest defeat of the season crumbling 3-0 defeat against Remo Stars in Sagamu, but the tactician is eager to see his side avoid a home slip against the Peoples' Elephants.
"It is very important when you play at home in front of your crowd," Makinwa told Goal.
"You have a kind of psychological strength win in front of them. We have won all our home games.
"My boys are always motivated to comeback home to win. Since I came to the club last year, we've won all our home games.
"We have been working hard to win all our home games especially anytime we are disappointed losing away from home.
"Our case is different, though in football everything is possible. You can win, draw and loss but we have made sure we win our home games.
"Though we not God, but our hope is that we continue to till the end of the season. We have won 1-0, 3-1 and sometimes we get our victory late in a match.
"I believe we can keep winning all our home games till the end of the season."