Faris Ramli
PKNS signed Faris Ramli and Romel Morales for 2018 season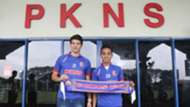 The 25-year-old becomes the first import signing for PKNS under the new management of K. Rajagopal as they look to embark on the 2018 season with a cup trophy in mind.
Formerly of Home United and Lions XII, Faris had previous experience with the latter when they were still competing in the Super League and thus is no stranger to the game here.
Editors' Picks
He made his name when he was 19 after being one of the few Asian players selected in a competition organised by a global sports brand, but it is his performances for club and the Singapore national team that caught Rajagopal's interest.
Having been look over by Melaka United previously, Faris started trialing with PKNS and have done enough to secure a one year contract.
Also announced in the press conference held on Friday, PKNS revealed that Romel Morales Ramirez has also been signed to the same duration.
A junior player for Banfield in Argentina, Morales had been a free agent since July. Only 20 years of age, Morales is a tall athletic midfielder.
Under Rajagopal, PKNS are aiming high for the new season, with a trophy being targeted. 
The two new signings add to the ones previously completed such as Nurridzuan Abu Hassan and Jafri Firdaus Chew.
Evergreen forward Safee Sali was retained from the team of last season and made club captain for the upcoming season.