Transfers
OFFICIAL: Davids appointed Maritzburg United head coach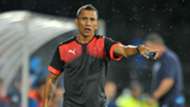 Maritzburg United on Tuesday confirmed Fadlu Davids as their permanent  headcoach.
The 36-year-old did a great job in his interim spells at Maritzburg, winning six and drawing six in his 14 matches when he replaced Ernst Middendorp and Roger De Sa respectively.
Davids scooped the coach of the month accolade in April 2017 after leading United into a strong push for a top eight berth which they duly attained.
He currently holds a Uefa B license and he is in the process of getting his Uefa A license.
Maitzburg club chairman Farouk Kadodia is happy with the decision they have reached to hand Davids the reins permanently.
"We assembled a strong squad to compete in the 2016/17 season but nonetheless we had the disruption of two coaches resigning during the season," he said.
"During this period the club had turned twice in the season to assistant coach Fadlu Davids as the interim coach. It was during this period that we saw fully the abilities of Fadlu Davids as a head coach," Kadodia said at his unveiling.