Manchester United
Man Utd may have to wait - Sprint king Bolt has 'a bit of work to do' in football quest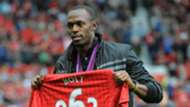 Usain Bolt may want to swap athletic spikes for football boots, but the Manchester United fan has "a bit of work to do" if that dream is to become reality.
The legendary Jamaican sprinter conquered the first sporting field he entered, claiming eight Olympic gold medals over the course of an iconic career.
He is now looking to move in a different direction, with the 31-year-old having stated that he is "very serious" about seeking a career in football.
A trial at Bundesliga side Borussia Dortmund has been arranged for March, while Bolt has already offered his services to David Beckham's new MLS franchise in Miami, saying: "If you need a striker, I'm the guy."
Such ambition may, however, have to be reined in, with a recent training spell with South African club Mamelodi Sundowns doing little to inspire confidence.
The Sundowns' New Zealand forward Jeremy Brockie told the Olympic Channel on Bolt's progress: "It's very easy saying that you want to become a professional footballer and it's a whole different story being, I think he's 31, and then trying to start.
"He's very quick so he won't have a problem in that side of the field and he had some nifty footwork as well. [He] rated himself as an attacking player. He's got that same confidence and swagger that he has on the sprinting track.
"[But] if I had to give an honest opinion based off the little hour that we trained with him, he's probably still got a little bit of work to do."
Bolt has previously admitted that turning out for his beloved United is "one of his biggest dreams".
Climbing that high up the ladder may be a struggle, but fellow Red Devils fan Brockie is looking forward to seeing one of the most recognisable personalities in sport chase down that goal.
He added: "I'm a Manchester United fan so it's quite exciting.
"I did have a quick chat and ask if there was any truth to the Man United stuff and when I'm going to be seeing him wear a Man United shirt.
"He said that he needs to go back to Jamaica and get fit for a month. He's got a trial lined up with Dortmund and then he said he'll see where it goes from there."