Simba
Lechantre: We only want to win a title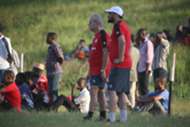 Simba's head coach Pierre Lechantre has insisted that his focus is only to win the League title this season rather than breaking records. 
Simba SC who are unbeaten in the past 20 League games lead the Vodacom Premier League table with 46 points. 
Speaking to Goal, Lechantre said that he knows that Simba fans want to win the title this season so he will deliver good perfoamnces in order to achieve that target. 
Editors' Picks
"What really matters is to be champions. I never spoke with the players about the records, we are not going to play for the records. What we want is to win the title" said Lechantre.