Mohun Bagan v Shillong Lajong
I-League 2017: Mohun Bagan given green light to host Shillong Lajong at Rabindra Sarobar Stadium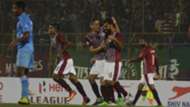 Kolkata giants Mohun Bagan saw the National Green Tribune (NGT) pass an order in favour of them on Thursday allowing matches to be held at the Rabindra Sarobar Stadium under floodlights in the ongoing 2016-17 I-League stadium.

The Mariners had initially registered the city stadium as their home ground for the I-League. However, noted city environmentalist Subhash Dutta moved the NGT alleging that the nearby eco-sensitive zone protected under the National Plan for Conservation of Aquatic Ecosystems could be harmed if matches were to be staged at the venue.

Hence, Mohun Bagan had to move their first home fixture to the Barasat Stadium where they won 1-0 against Churchill Brothers. The latest ruling allows them to brand the Rabindra Sarobar stadium as their official home ground just in time as Shillong Lajong pay a visit on Friday.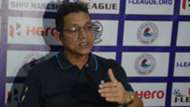 Even before the order was passed, Mohun Bagan head coach Sanjoy Sen earlier in the day had expressed his wish to play there as opposed to the artificial turf in Barasat. "It is always good to play on a grass turf as chances of an injury are less for all the players," said Sen.
"These are things beyond my hand but all I know that our players are focused and we know how well-drilled and technically adept Lajong players are given the fact that Thangboi Singto has been there for a long time", the former United SC coach elaborated on his thoughts about the match.
Shillong Lajong, who are coming off a heavy 3-0 defeat on the opening weekend at the hands of
Bengaluru FC
, would like to turn the tide and pick up their first points of the season in Kolkata.
Lajong head coach Thangboi Singto expressed, "Mohun Bagan are a champions side and I don't think them missing some players will make them play defensively. We have to plan accordingly and ensure we come off with a respectable performance and hopefully some points."
Commenting on the fiasco related to the venue, the Manipur-born coach did not seem to be too concerned. "In Shillong, we train on an artificial turf and we go around playing on natural grass. The venue is not a problem to me, whatever it might be," concluded Singto.