South Africa
EXTRA TIME: Watch Banyana train for Cosafa Cup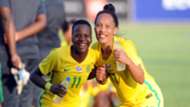 With Women's Day falling between the training camp, it's the perfect time to showcase Banyana Banyana in action.
South Africa hosts the Cosafa Cup at the end of this month.
You can not only watch these videos, but also listen to coach Desiree Ellis on the tournament preparations.
Ellis was quoted by Safa as follows:
"Happy with the training so far, we working in stages but I am confident we will be ready come the AFCON later this year. We had a fitness test because we have to check the level of where our players are seeing that the COSAFA Cup is not too far away," said Ellis to Safa Media.
"We would definitely like to win the COSAFA Cup again, in fact, we would be naïve not to want to do it again. Winning begets winning, and that is the way we want to move forward."
Witness the fitness!
Coach @descaptain puts @Banyana_Banyana's fitness to the test as Day 2 of the COSAFA Cup team selection camp gets underway. #Limitless @SasolSA @SAFA_net pic.twitter.com/JYBcEI8PXX

— Official SasolLeague (@SasolLeague) August 7, 2018
@Banyana_Banyana have just arrived at the Nike Training Centre for the media open day. All media are welcome. #Limitless @SasolSA @SAFA_net pic.twitter.com/RuKZtEqlPq

— Official SasolLeague (@SasolLeague) August 7, 2018
@Banyana_Banyana training session, goalkeepers Andile Dlamini and Roxanne Barker hard at work #LIMITLESS @SAFA_net @SasolSA pic.twitter.com/GDBMwIAx13

— Banyana_Banyana (@Banyana_Banyana) August 7, 2018
LISTEN: Ellis on COSAFA preparation camp https://t.co/YfZo4Iiz6R via @SAFA_net

— SAFA.net (@SAFA_net) August 10, 2018