CAF Champions League
Dylan Kerr wants Gor Mahia to keep faith with Zedekiah 'Zico' Otieno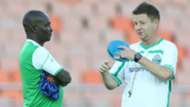 Dylan Kerr is confident that Zedekiah 'Zico' Otieno can be a success at Gor Mahia despite his exit.
The Briton coach left the Kenyan champions last Thursday, just a few weeks before they launch their campaign in the Caf Champions League, where they have been drawn to face Nyasa Big Bullets from Malawi in the preliminary stage.
However, Kerr now insists that 'Zico', who was his assistant from last season, can do a good job if given the chance to lead the side. "Zico should get the job because it is in his blood, he should not waste the chance.
"He learnt a lot from me and if anything it's about those players playing for him. Remember it is the same squad and this should be easy for him to make a good start with the team," Kerr told Goal.com in an interview.
"Gor Mahia should give 'Zico' time and I know he can deliver because he knows everyone at the club. He was a good assistant to me and wanted to learn more and he now needs to show what he learnt during my time with him because you must always take the good from what you learn."
However, Kerr says if Gor Mahia decides to go for a foreign coach then, the new man must aim high. "The next coach if they appoint a foreigner has to take Gor Mahia further. My philosophy was to aim to do the best. The club must go for the right man for the job."
Gor Mahia are yet to decide on who will take over from Kerr, with reports already linking former coach Ze Maria and Luc Eymael for the job.