Balwant Singh
Balwant Singh: I wish I had taken up football earlier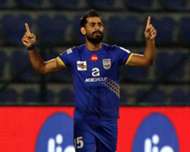 The 20-year-old boy from Rahilla, a small village in Hoshiarpur, was in a fix when he was selected by the Border Security Force (BSF) academy in Siliguri. On one hand, he was aware that joining BSF would ensure a steady income which would bring financial stability to his family who were struggling to make both ends meet. But at the same time, he would have to let go of his passion for football. 
"I joined JCT when I was 20. I got a job in BSF while I was in JCT academy. I passed the required medical tests for the job and I was waiting for the joining letter. In the meantime, Sukhi ji (Sukhwinder Singh) called many players from the academy for trials. After watching me play, he advised me to take up football as a profession. Before that I never thought I could make it as a professional," revealed Balwant Singh to Goal. 
It was a difficult choice but now Singh 'thanks God' that he did not succumb to the rugged realities of life and instead had the courage to follow his heart.
In his very first season in JCT, he established himself as an undisputed starter and made 26 appearances in I-League. His apprenticeship under Sukhwinder Singh, then head coach of JCT, helped him develop a strong foundation which would land him a club after JCT closed shop.
"My three years in JCT have been an important learning curve in my career. Sukhi ji motivated me all throughout. He improved me technically as a striker. He developed my positioning and my ability to skip markers. But when JCT was about to close, I had no other option but to leave and join Salgaocar," remarked Singh.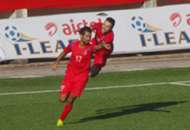 But after joining Salgaocar the forward found it difficult to fit in Karim Bencherifa's plan and style of football. In his two years with Salgaocar, he made only a handful of appearances in the national league and had to remain content by playing only in the Goa Professional League. 
"That was the first time I left Punjab. So I took some time to settle.  But I trained hard and was fully fit during the first season. Still, I don't know why I was not in his (Karim Bencharifa) good books. He did not play me in any of the I-League matches. I appeared in a Federation Cup match for 15-20 minutes and in that short period, I scored. But still I was not picked regularly. Then I suffered an injury at the end of the season. 
"But I still trained for 10-15 days with pain. The doctor advised me to slowly get back to training but Karim asked me to resume immediately at the beginning of the second season. I refused to play in pain. He might be a good coach but I did not like his plans and I came back home. I went to Delhi to do rehab under Gagan Kapoor and that helped me to regain my fitness," said Singh reminiscing about his difficult days with the Goan side. 
The forward was so frustrated with Bencherifa that even after getting fit he chose to remain at home instead of going back and joining Salgaocar. Although The Greens offered him a contract extension, he did not think twice to reject them once he was approached by Churchill Brothers. He reunited with his first coach Sukhwinder Singh but a string of disappointing results forced the management to axe the former JCT coach. 
It was another shock for Singh as he was at first apprehensive about working with a new coach after his bitter experience with Bencherifa. But under Subhash Bhowmick, Singh went on to perform brilliantly and scored 10 goals in 22 appearances.   
"That was my breakthrough season in Indian football. I had put in a lot of effort while I was at home so that I can strongly bounce back. I flourished under Bhowmick sir. He trusted me a lot. Under Karim. I got no playing time. After wasting two years. I was finally regaining my touch. Bhowmick Sir used me as a left winger as well whenever he needed. I gained a lot of valuable experience under him," expressed Singh thankfully.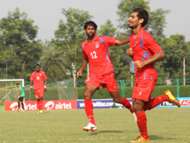 His impressive performances with the Red Machines saw him win the Football Player's Association of India's 'Player of the Year' award. Clubs started seeking out the new sensation but Singh had already made up his mind. 
"I always wanted to play for a Kolkata club. People are crazy about football in that city. I used to listen to senior Punjabi players who played in Kolkata on how it felt to play before a packed stadium. I dreamt of joining either Mohun Bagan or East Bengal. Co-incidentally, Bhowmick Sir also went to Mohun Bagan in 2014. That also facilitated my decision to join Bagan. I had an offer from East Bengal as well. But I wanted to continue with Bhowmick Sir."
In his very first season with Mohun Bagan, he ticked all the right boxes that a player dreams of. The forward scored the winner in the Kolkata derby in I-league and at the end of the season he had fulfilled his dream of winning the I-League by drawing against Bengaluru FC at the Kanteerava. 
"I spent the best three years of my career in Bagan. Right from the management and the coaching staff, everyone was so supportive that I did not feel like I have come to a new place. The Bengali players welcomed us with open arms and I felt at home. I cannot forget the scenes after we won the derby against East Bengal where I scored the only goal of the match. The atmosphere was electric. Finally, when we won the league at Kanteerava it was a dream come true."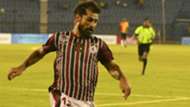 Balwant does not hesitate to admit that he 'misses' Kolkata. So when he had the opportunity to sign for ATK and re-unite Sanjoy Sen, he did not have any second thoughts.
"When Sanjoy sir called me and discussed the project I immediately said yes. It will be great to work with him once again. The best thing about sir is he never forces anyone to play while he is injured. He lets the player enjoy the game."
Although Singh has been a regular starter for Mumbai City in the recently concluded ISL, he is third on the pecking order in the Indian national team after Sunil Chhetri and Jeje. He acknowledges the 'stiff competition' in the national side and mentioned that the competition helps him train better and remain focused. 
"Everyone wants to play. But it depends on the coach and the situation. As a player, we must give 100 per cent. The best thing is that no one is guaranteed a place in the national team. If you train well you will get your chance someday. I always try to perform well so that my performance compels the coach to select me. 
"Stephen Sir focusses a lot on fitness. But the most important thing I have learnt from him is that a striker must also defend. He is the first defender of any team and he must press hard," says Singh.
In spite of going strength to strength in his professional career, there is only one thing that he sometimes rues about.
"I wish I had taken up football more seriously a bit early in my life."