African All Stars
Arsenal forward Chuba Akpom banned from driving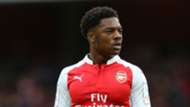 Arsenal's Chuba Akpom has been banned from driving for 17 months after crashing his car into a fence in Barnet, north London.
The forward who was on his way back home from a party mounted a grass verge near a petrol garage, before knocking down a large fence.
Akpom admitted to driving while drunk on a concoction of 'vodka and cranberry juice'.
The former Coventry City and Hull City attacker was also fined by the Willesden Magistrates Court for losing control of his £60,000 Range Rover.
According to the Sun, his lawyer Aki Achillea told the court Akpom's father feared the worst when he saw the damaged vehicle near the family home.
"His father woke up later and found the crashed car outside the gate with no driver and for a moment he was seriously concerned about what had happened to his son," said Achillea.
"He was about to ring hospitals and the police, fearing his son, being a high-profile footballer, had been abducted so this has affected the family as well.
"He has let himself down and made a dreadful mistake for a boy that has always been so disciplined."
Akpom has scored two goals in six league appearances for the Arsenal u23 side this season.