Arsenal
Everything Arsenal fans need to know about Arteta's importance to Guardiola at Man City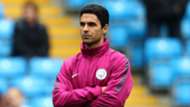 When Theo Walcott scored for Arsenal just four minutes into their game against Manchester City in December 2016, the television cameras panned to Pep Guardiola. Fresh from damaging defeats against Chelsea and Leicester City, City's title challenge was unravelling.
Another loss against the Gunners would have been City's third in four league games and Guardiola – and his suitability to English football – was under the microscope. Yet he was not City manager that day. Mikel Arteta was.
"The team is yours," Guardiola told Arteta in the days leading up to the clash.
Guardiola had added Arteta to his trusted coaching staff that summer and the former midfielder had made such an impression in those first few months that he was trusted with taking charge for the game against Arsenal, his old club.
Hamstrung by injuries and suspensions, and with a decision to scrap a three-man defence already made, Arteta did not have too much room to make sweeping changes, although Kevin De Bruyne started the game on the left of a front three, with Leroy Sane on the right and Raheem Sterling through the middle – the first time he had been used in such a role that season. 
Trailing at half-time, De Bruyne was put through the middle, Sterling moved to the right and Sane to the left. Within two minutes Sane darted through the middle to equalise, before Sterling cut in from the right to win it.
City's overall approach under Arteta that day was no different to how it would have been under Guardiola; after all, they have shared the same footballing philosophy since their time together at Barcelona, as both are steeped in Johan Cruyff's interpretation of the juego de posicion approach.
Little is known of Arteta's own methods outside City's training academy, but he has quickly become a trusted and vital part of Guardiola's coaching set-up, which has been finely tuned over the past 10 years.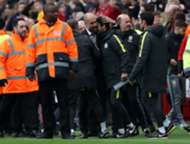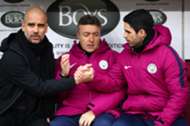 He and Guardiola have been close friends since their time together at Camp Nou, despite an 11-year age gap, and in fact a large factor in Arteta's failure to make the grade at Barca was because Guardiola had the No.4 position locked down. Barca fans at the time even called Arteta 'Guardioleta' due to his similarities to the European Cup-winning midfielder.
And just as Guardiola made his way around the globe once he decided to leave Barcelona at the end of his career, Arteta took several brave decisions in a bid to get his senior career off the ground. Moves to Paris Saint-Germain, Rangers, Everton and Arsenal sharpened his appreciation of the game outside Spain.
As Arteta wound down his playing career at Arsenal and cast his eye towards coaching, he paid a visit to Guardiola and his staff at Bayern Munich, spending time observing his old friend as the Catalan set about stamping his playing style on the Bundesliga.
Arteta found he had no opportunities to go into coaching at the Emirates but was delighted to be offered the chance to work with Guardiola in Manchester. Brian Kidd is officially listed as City's assistant manager, the veteran coach kept around, ostensibly, to provide Guardiola with optics on the various quirks of the English game; particularly difficult away grounds and the demands of the Christmas schedule.
Yet Arteta's knowledge in this area has been invaluable to Guardiola in the past two years, especially as he had only just hung up his boots when he made the move into coaching.
The quality of his information regarding City's rivals was one of the driving factors in the decision to put him in charge against Arsenal, and his former boss, Arsene Wenger, whom he may now replace having become the preferred candidate of the Gunners hierarchy .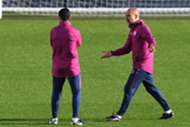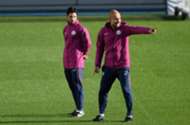 Wenger had famously stuck to the same principles for years, despite serious doubts over their efficacy, and after five years under the Frenchman at the Emirates, Arteta was ideally suited to pick a team and a strategy to beat his old boss.
But Guardiola also believed that Arteta, after just a few months working with a new group of players, and indeed his first months as a coach, knew exactly how to transmit those ideas on a match day. 
Indeed, Arteta's most important contribution to City has been how he communicates with the squad. More often than not he has been the one charged with taking on board Guardiola's demands and filtering them through to the players. He was the one who explained to Fabian Delph what was expected of him in his new role as a hybrid left-back/central midfielder.
He has spent hours getting the message across to the centre-backs, spelling out exactly how they need to position themselves on the pitch and how to shape their bodies when they receive the ball. At the end of last year, Guardiola highlighted how Sterling's finishing had improved as a result of extra hours spent on the training ground with Arteta.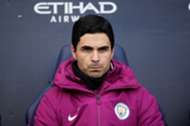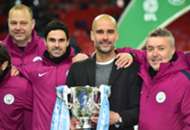 The Basque is very close to the City players and very popular in the dressing room. He is very hands-on in training sessions, too; if a first-team player is absent, Arteta will jump into the drills to make up the numbers. It is said he does not look out of place, either.
Over the years, Guardiola has occasionally referred to his "smell", his sixth sense when it comes to making key decisions relating to his squad; he has used it in explaining why he sold Samuel Eto'o at Barcelona and Joe Hart at City. 
And it seems that Arteta has a similar knack; after a couple of big wins this season, Guardiola has said that he knew a good performance was coming because Arteta, taking charge of the pre-match warm-ups, and relayed how impressed he was with the players' efforts ahead of kick-off.
A source close to the coaching staff says Arteta is a "professor", although he is no shrinking violet, as evidenced when he confronted Lionel Messi in the tunnel at Camp Nou last season, helping to spark a mass brawl. 
There is no doubt among his City colleagues that he is ready to take on a big job already – and one has has now come up, one that Arteta was always going to find difficult to resist.
Goal's news that Arteta is set to take over Arsenal should not come as surprise. Indeed, his enduring affection for the Gunners has never been in doubt.
When Sterling scored the winner for Arteta's City team that day in December, the camera once again panned to Guardiola. The Catalan and most of his coaching staff celebrated in their technical area. Most. Arteta remained seated on the bench, his chin buried in his City tracksuit top.