United States
El Tri ramping up pursuit of USMNT prospect Jonathan Gonzalez — and he's listening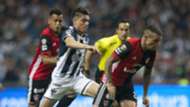 Jonathan Gonzalez was once fully committed to representing the United States on the international level, and while he may not have changed his mind, he is clearly considering his other option.
Gonzalez has been in contact with officials from the Mexican Football Federation, and has spoken to coach Juan Carlos Osorio about playing for El Tri, a source with knowledge of the discussions confirmed to Goal last Thursday.
A report from Univision Deportes on Monday claims Gonzalez has decided to represent El Tri, and will file the one-time change of association with FIFA, which would permanently tie him to Mexico as an international.
However, as of last week, Gonzalez had not yet contacted U.S. Soccer to notify them of the switch — something that is required for him to complete the change in his international eligibility. Neither U.S. Soccer nor the Mexican federation have confirmed or denied at the report.
Last week, reports surfaced that El Tri are considering calling up Gonzalez for the upcoming friendly against Bosnia & Herzegovina on Jan. 31 in San Antonio, Texas. ESPN Mexico reported Thursday that it is a good possibility Gonzalez will be called up for that friendly, but only if he files his one-time switch. 
Gonzalez was born in Northern California and has represented the U.S. in official competitions with the Under-17 and U-20 national teams. He is eligible to play for Mexico as long as he had Mexican citizenship prior to playing in an official U-17 competition with the U.S.
If so, he must then file for a change of association. The process to have such a switch approved can take from weeks to months, and a source at U.S. Soccer confirmed to Goal that Gonzalez has yet to inform the federation of a decision to switch, which is a requirement in the process.
The reality is there is no rush for Gonzalez to file a switch just to play in a January friendly. He would remain eligible for the U.S. and Mexico until he represented the U.S. national team in an official competition, and with the U.S. set to miss the World Cup, the next opportunity to cap-tie him won't come until the CONCACAF League of Nations kicks off next fall.
In theory, Gonzalez could be motivated by an opportunity to play in the 2018 World Cup with Mexico, but he would be considered a long shot to make that squad, especially playing in a midfield where El Tri have a multitude of options.
The Mexican federation could be pushing hard to force him into a decision if it is believed he is unhappy with the U.S., which is a prevailing notion after Gonzalez revealed in a recent interview with Soccer America that nobody at U.S. Soccer contacted him about November's friendly against Portugal.
"I wasn't called in, in November," Gonzalez told Soccer America . "Personally, nobody came and talked to me and let me know about that friendly. I just wasn't called in."
Goal reported in December that Gonzalez wasn't happy about not being called in for the Portugal friendly. Gonzalez's decision to publicly reveal that nobody at U.S. Soccer even called him to discuss where he stood — even though he was in the midst of an outstanding season in Liga MX — could be taken as a sign he is unhappy with the federation, as could his willingness to discuss a potential switch with Mexican officials.
Gonzalez would need to have a change of association approved by FIFA to play in any match for Mexico, but El Tri could choose to have Gonzalez in camp for the Bosnia friendly as a participant or guest. U.S. Soccer invited Gonzalez to take part in its January training camp, but that request was denied by Monterrey, sources confirmed to Goal .