International Champions Cup
ICC organiser Stillitano has 'no intention' for European Super League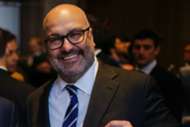 Charlie Stillitano, chief architect of the International Champions Cup, has moved to allay fears of European football fans by declaring that he has no intention of organising a breakaway Super League.
ICC head Stillitano faced a wave of criticism in March 2016 for attending a meeting with executives from Arsenal, Chelsea, Liverpool, Manchester City and Manchester United with the suggestion that an alternative to the Champions League was being proposed.
Stillitano believes that the ICC will remain an integral part of pre-season preparations and enjoys good relationships with many of the clubs involved. However there is no intention on the part of the ICC and its parent company Relevant Sports to set up a competition to the Champions League.
"We don't want a closed league, we don't want a European Super League," Stillitano told Goal at the Soccerex Global Convention in Manchester. "We want to build the ICC and we'd love to make it as authentic and competitive as possible.
Stillitano nonetheless believes that the time will come when discussions take place between the biggest clubs and their respective national associations and confederations about alternative competitions. In that eventuality, the 57-year-old believes his organisation could help implement any plans they might have.
"We never have an intention of starting some runaway league," he said. "This has never been our intention nor is it now our intention.
"What we have said is we'd love if and when teams and leagues decide to do something official, we think we're uniquely qualified to handle that. That doesn't mean we'll even be considered because it's clearly up to the teams or the confederations to make the decisions.
"But we think we do a good job with that, we're very respectful of the game and we'd be happy to be a part of it. We're not forming some runaway league."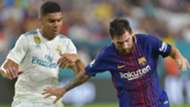 The ICC held its fifth edition this summer with 19 matches taking place in three countries during the European off-season. The likes of Barcelona, Real Madrid, Bayern Munich and Paris Saint-Germain competed across China, Singapore and multiple venues in the United States.
The competitions is growing in popularity with an average of over 48,000 people attending the summer games but a closed competition on foreign soil remains off the agenda.
"The way it was reported I completely understand the fans' concerns," Stillitano said. "The question was really asked 'Can a closed league work?' and the answer is 'Yes' if you look at the NFL and even MLS is a closed league. But it's anathema to what we have here in Europe.
"The guys in the NFL would argue it should be closed, you build the product, you can have consistent teams, you've consistent brands and you can build this together.
"What they're missing is we don't have that in Europe and it's not part of our culture. Move on.
"When people read some of the things I was purposed to say I understand why they were concerned but it's not accurate."