African All Stars
Didier Drogba: The man for the big occasion
---
COMMENT    By Solace Chukwu    

Follow on Twitter
---
Now 40, Didier Drogba will close out one life and begin another. It is then as good a time as any to look back on the playing career of one of the most iconic African footballers ever, a man who embodied the cliche 'for the big occasion'.
For one who, through his career, came to exhibit a unique sense of timing, it is ironic that he bloomed relatively late.
In this era, with the scramble for the 'new Messi' akin to the Gold Rush of the 1800s, to be unremarkable by the age of 20 is pretty much terminal. Yet, it was not until he was 24, at Guingamp, that he began to catch the eye.
As such, when he arrived at Chelsea in 2004, he was effectively playing catch-up. Was followed was an eight-year stretch, laden with trophies, garlanded by cult status and capped with the perfect ending: the final kick in the penalty shootout of the final game of the final trophy for which club owner Roman Abramovich had thirsted incessantly.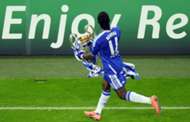 That he was then unable to get over the line on the international stage leaves something of a black mark on an accomplished career.
However, it is the measure of the man that it is not held against him very much in his native Ivory Coast; his statesmanship and self-awareness, in a time of political and social upheaval in the country lends him a larger-than-life air. His impassioned appeal following the nation's qualification for a first-ever Fifa World Cup appearance was instrumental to ending a civil war over half a decade old.
Still though, in the pantheon of the great African strikers, national team accomplishments do count for something. It makes his overall legacy slightly less clear-cut.
His big game mentality did not, for instance, come to the fore in the Africa Cup of Nations final of 2006, the game which kicked off the great disappointment of a 'Golden Generation'. Drogba was one of two to fail from the spot, as Egypt won a fifth title.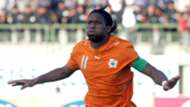 It didn't either in either of the two subsequent tournaments, both of which saw a vastly overstocked Ivoirian side capitulate pitifully and fail to as much as make the final.
It also does not reflect particularly favorably that, in the very first tournament following his retirement, that hoodoo was finally broken. However, that is less to do with his own ability as with the effect that level of it can have on a team, fostering a crippling dependency.
Beyond simply the ability, which was considerable, his force of personality resonated through his teams. It had some surprising effects: previously great strikers such as Mateja Kezman, Hernan Crespo, and even the great Ukrainian forward Andriy Shevchenko, were unable to escape his shadow at various points at Stamford Bridge.
His committed, combative style came to both epitomize and define Chelsea, especially after the Blues barreled their way through the Premier League in 2005. Under Jose Mourinho, they were rugged, powerful and relentless, all traits that meant Drogba was the perfect standard.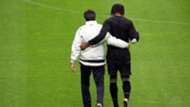 The perfect player, then, at the perfect time? Perhaps.
One might even say that, in the time before the extraterrestrials, he was one of the game's truly great strikers.
His season totals over his time at Chelsea may look plain in this day (16, 16, 33, 15, 14, 37, 13, 21), as Messi and Ronaldo pulverize every known goals record, but the noughties were noticeably characterized by a shift toward defensive football, with arch-pragmatists such as Mourinho and Rafael Benitez as the protagonists.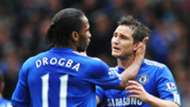 It is instructive that, in the season that saw Chelsea play a vibrant, attacking brand of football under Carlo Ancelotti, Drogba hit his highest league total ever, with 29.
That might seem merely logical, but the sense with him is often that, while he was a scorer of great goals, he was not necessarily a great goalscorer. That season proved that he could have been the latter, but was consistently impactful enough that he was the former even in less expansive set-ups.
The only player ever to score in four FA Cup finals, and a scorer in 10 different tournament finals. He may lack the sheer volume of goals and the crowning glory of international triumph that marks, say, Samuel Eto'o out as superior, but few of his contemporaries could ever rival him for impact when it mattered most.