Transfers
Safa hoping to conclude Baxter deal sooner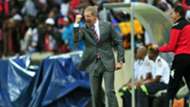 South African Football Association (Safa) chief executive officer Dennis Mumble says they are hoping to finally finalise a deal with SuperSport United coach Stuart Baxter.

"We are fairly close to resolving the issue with his representative," Mumble said on The Citizen.

"But it is almost a done deal as we have agreed terms with the coach. However, we are not discussing anything with SuperSport as it is a personal matter between us and him," he continued.

Mumble explained that they thought they had the deal sealed almost four week ago. But he's now hopeful that they could finally get their man as SuperSport's PSL title hopes are slowly diminishing.

"We thought we had concluded the deal as we had agreed on everything. The only issue has been when he would leave SuperSport," Mumble added.

"But now maybe we will be able to get him sooner as [SuperSport] seem to no longer be in the title race.

"It's not a big deal when he gets released – we have enough intelligence on the ground to know what is happening with our players," he stressed.

"He is also here to monitor the players. It is a matter of how they want him to handle the handover at SuperSport with the new coach," he concluded.