Copa MX
Monterrey, Pachuca out for consolation prize after December defeats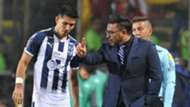 Monterrey or Pachuca will lift the Copa MX on Thursday night. They'll celebrate winning a trophy. Then, they'll go home to celebrate the holidays and try to move on from a December that will be remembered with more frustration than joy.
In this season, we can think of the Copa MX like a company white elephant party. Look, you probably would rather be somewhere else and you may not even like playing the game, but you're damn sure going to steal the best prize if you can.
So, in this game - originally set to take place Nov. 2 before September's tragic earthquake caused multiple rounds of the tournament to be rescheduled - both teams will give it their best to add another trophy to the cabinet.
Rayados are hosting the matchup, which should be a huge boost. They've lost just five times at the Estadio Bancomer BBVA since the summer of 2016. The issue is that the most recent result was a defeat to hated rival Tigres in the second leg of the Liga MX final. Other games include a defeat to Arabe Unido that spelled the end of Monterrey's CCL run, a Copa MX loss to Chivas and another Liguilla elimination. Go back to May 2016 and you'll recall this Pachuca team going into the same stadium and coming away with a draw. That meant Pachuca celebrated winning a title on Monterrey's field.
What good is being dominant in almost every match at home if you still lose the ones that actually matter? After a loss that Monterrey manager Antonio said it "hurt so much because the dream was so big." Rayados now must bounce back and win a title to avoid the lable of being the team that loses finals at home.
"We're playing at home and it's just one game. We have to be considered the favorite because we're at home," Mohamed said at a Wednesday news conference. "But we have to recover in the psychological aspect after not being able to win the league. Tomorrow is good time a bit to lessen the pain of losing the final a bit. That's the goal."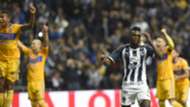 The pain may not be as acute for Pachuca. The Tuzos should've done better in the Club World Cup, missing a big opportunity to get past Gremio and into the final. Their third-place finish, however, ties the best-ever finish for a CONCACAF team at the competition (Necaxa, Saprissa and Monterrey all finished third in previous incarnations). There was no stinging defeat in the Liga MX playoffs either, but that was because Pachuca didn't even qualify for the playoffs. Hirving "Chucky" Lozano is a tough player to replace but beyond missing the star winger, Pachuca's defense has taken a step down and the club now finds itself in an intermediary period, staying faithful to its goals of developing young players but also having veterans on the roster who need to help the team win now.
One of those players, Jonathan Urretaviscaya, moved on from Tuzos in the draft and will soon suit up for Monterrey. Part of the agreement, though, was that he wouldn't play in Thursday's final. That will put pressure on Victor Guzman, Keisuke Honda and the rest of Pachuca's attack to find a way through against a staunch Rayados defense, though it will be nothing like the pressure Monterrey is facing to erase the memory of the final.
"What can happen is that they might have enormous pressure on them because of what happened in the last match of the final, maybe they have more pressure, but that can be channeled in a good way," Pachuca coach Diego Alonso said. "It's going to depend on us and how we're able to make this pressure either be good or bad, so we're going to try to make it difficult for Monterrey." 
Each team would've perferred a different trophy than the Copa MX. They would've rather paraded through the streets with the Liga MX crown in Monterrey's case or off a shocking win against Real Madrid in Pachuca's. But at some point, you've got to roll with what you've got. The game is falling at a strange time, the competition is still looking for prestige in Mexico but the winner Thursday will be holding a trophy, celebrating and putting previous frustrations behind them.