Videos
'Fill up the fuel tank' - Criciuma fans mock Chapecoense tragedy with vile chant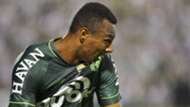 A small group of Criciuma fans caused outrage in Brazil with a sick chant mocking the tragic plane crash suffered by rivals Chapecoense. 
The two sides clashed on Sunday in a Santa Catarina State Championship game in Criciuma, with the visitors already assured the second stage title. 
Ronaldinho leads Messi tributes
And after supporters celebrated their rivals' relegation troubles, the home end responded with a tasteless reference to the crash in Medellin which claimed 71 lives back in December. 
"Ooh ooh ooh, fill up the plane's fuel tank," a section of the Estadio Heriberto Hulse sang, although they were booed by other home fans who took exception to the lyric. 
Jogo:Criciúma X Chapecoense!
Por essas você se torna uma Homicida.@ChapecoenseReal @RdChapeco @danutamalavolta @claudia_edreyer @cacamartan pic.twitter.com/Ffvac1rQh2

— #MoroBrasilTeApoia (@killerman001bs) 24 de abril de 2017
Following the game, which finished 1-0 to Criciuma, Chapecoense president Plinio de Nes slammed the fans for their actions and revealed he would be making a formal complaint. 
"They are a bunch of imbeciles, the rivalry exists and we have to let it thrive on the field, not off it," he fired. 
"It is very regrettable and distasteful, in every sense. Half a dozen people who have no sense of brotherhood or respect for life start with these absurd songs. 
"We are going to look at the videos and then we will release a statement of condemnation, without a doubt. This situation is beyond the pale. The Criciuma directors have to punish this by not allowing these elements in their stadium anymore."
The episode is the second case in as many weeks of fans making offensive references to the Chapecoense plane crash. 
Porto were admonished after the club's supporters chanted "How I wish Chapecoense's plane was Benfica's" during a handball game between the Portuguese giants, an action which was also condemned by the Brazilian club.