Arsenal
Arsenal wouldn't go for Bale - Hartson hits out at Gunners' transfer policy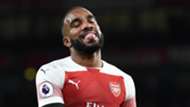 Arsenal's transfer policy is holding them back from challenging for the title, according to former Gunner John Hartson.
The north London club have missed out on a top-four finish in the last two seasons, but have seen an upturn in results under Unai Emery since losing their first two matches of the campaign.
However, Manchester City and Liverpool have been in scintillating form so far this term and Hartson thinks it will take Arsenal years to catch up with the two sides. 
Speaking to The Express , the Welshman said: "In terms of the title, there's going to have to be some money spent, they must back Emery in the transfer market. You know Man City are going to go in for the best players on the planet. Arsenal don't do that.
"Liverpool do now, they just spent £60m on a goalkeeper, £75m on Van Dijk, £50m on Keita - and they've got three strikers that are incredible. Right through their spine, they are superb.
"No disrespect to Arsenal, if say for argument's sake, a Gareth Bale becomes available [they won't go in]. I know he's ex-Spurs and it may not happen.
"But if a top player like that became available and he's £95m with £40m wages over the next four years, will they go in for him? They might not.
"But someone like City would and they have. It's going to take investment, time with Emery and backing from the football club for Arsenal to come close to challenging again."
Hartson believes the Premier League champions and Jurgen Klopp's Liverpool are by far the strongest clubs in England at the moment.
"The football they play and the players that they have, most teams are playing for third," the former striker continued. "Chelsea, Tottenham, [Manchester] United.
"They won't admit it but deep down they're wishing they had a [Sergio] Aguero or a [Kevin] De Bruyne.
"How far are Arsenal away? I think they're a few years behind in terms of challenging for the title."