AIFF Super Cup
Super Cup 2018: Over-reliance on Amna and Katsumi a headache for East Bengal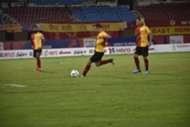 Laldanmawia Ralte's 95th-minute penalty helped East Bengal beat Aizawl FC 1-0 to reach the semifinal of the ongoing Super Cup in Bhubaneswar. This was East Bengal's first win against Aizawl from their last five meetings. Three of the other four had ended in a draw and Aizawl had been victorios once. Incidentally, that win came when Khalid Jamil was at the North Eastern club in the 2016-17 season.
East Bengal started the game as favourites and were expectedly dominating the proceedings. A tired Aizawl FC, who  had played Bengaluru FC midweek in an AFC Cup, took a pragmatic approach. Coach Santosh Kashyap tried his best to keep a check on the East Bengal midfield so that he could cut off their supply line.
The Kolkata giants could have been up by a couple of goals in the first half itself had their striker Dudu Omagbemi been clinical in front of the goal. On an occasion, the Nigerian veteran, who scored seven goals for the club in I-League, failed to tap in a ball into an empty net from a point-blank range.
With Mahmoud Al Amna and Yusa Katsumi being kept a close eye on, Dudu was expected to take a little more effort and bail his team out. But once again the team failed to create an impact when the influence of the midfield duo was nullified.
Amna and Katsumi being intelligent players, they constantly switched places on the pitch and tried to get away from their markers. Seconds after second-half kicked-off, Amna created a golden opportunity for Dudu with a brilliant through-ball. Dudu was one-on-one with goalkeeper Lalawmpuia but failed to go past him.
The penalty which East Bengal got in dying moments of the match was once again due to Al Amna's vision, who sent a defence-splitting through-ball eyeing Ansumana Kromah's run. Lalawmpuia came off his line and fouled Kromah inside the box.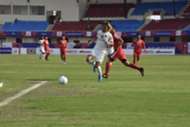 East Bengal's performance once again highlighted the same old problems which blighted their performance in the I-League. They continue to be dependent on the Japanese and Syrian attacking midfielders. Even in their match against Mumbai City FC, it was Katsumi and Amna who scored to seal their team's win.
East Bengal will now face the winner of FC Goa vs Jamshedpur FC in the last four stage. They need other players in the team to step up if they are to make further progress in the competition. Both Jamshedpur and Goa boast of a very strong midfield with the likes of Wellington Priori, Memo  (Jamshedpur FC), Edu Bedia and Hugo Boumous (FC Goa). With such strong midfield at their disposal, it won't be a difficult task for either of the two teams to keep a check on East Bengal's two most potent attacking threats.
Khalid Jamil and Subhas Bhowmick have a lot of thinking to do ahead of the semis.