Transfers
Miguel Layun's Monterrey move makes sense for player, club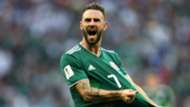 Miguel Layun is coming home.
His move to Monterrey from Villarreal, announced Wednesday, is being met with side eyes and sneers. Here's another Mexico national team player taking the easy way out. Especially after reports emerged Thursday that there still was interest from European clubs like Celta de Vigo and Milan for the 30-year-old, Layun has been branded as another El Tri star lacking ambition.
But there's little harm for Layun in returning to North America. He's done big things in Europe in the four years he spent there since leaving Club America. He scored goals in La Liga, in the Premier League and in Portugal. He played a critical role for the national team at the 2018 World Cup. 
Now, the Veracruz native can be back in his home country, still playing at a high level but with the knowledge he should be in line for regular starting minutes in Diego Alonso's squad.
Layun will come home and play often rather than struggling for time in Europe. He decided that financially and personally it's a better decision to be back in Mexico. He'll hardly be the last to make that calculation. He definitely isn't the first. Just across town, winger Javier Aquino elected to join Tigres after a failed stint with the same Villarreal team where Layun was struggling to earn consistent minutes.
Aquino has been a stand-out for Tuca Ferretti's team, earning his place on the 2018 World Cup squad and also grabbing the attention of several teams that wanted to bring him back to the Old Continent. Instead, the 28-year-old has been content to press on in an environment where he's happy on a personal and professional level.
Layun's case is different from Carlos Salcedo's, a player who was unquestionably on the rise with Eintracht Frankfurt before signing with Tigres. Fans have reason to be frustrated by the turn Salcedo's career took. Mexico's best center back is just 25 and unlike Layun almost certainly will be involved in the next World Cup cycle. 
It's not a given Layun won't be in Qatar, though. His versatility is a huge asset in the international game, but it's a bit of a curse for him in a club side. Unless a manager pegs him into a certain position, he's left to fill in gaps when players are injured or to come in as a substitute. But he's not a better winger than dedicated La Liga wingers, nor a stronger fullback than players who play that position week in, week out.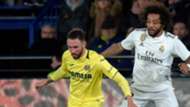 Last season, Layun was stuck behind two of the Europe's better fullbacks with Maxi Pereira and Alex Telles ahead of him at Porto. This season, in a cruel twist, injuries resulted in winger Jesus "Tecatito" Corona being pressed into duty at right back on several occasions.
While he left Porto last winter in search of more minutes, Sevilla and Villarreal also proved tough places to get time. He never settled into a spot at Sevilla, and couldn't beat out Villarreal's fullbacks with captain Mario Gaspar holding down the right flank and Jaume Costa earning the spot on the left. Out wide in attack, Layun wasn't going to displace Santi Cazorla and doesn't have the speed needed on the other side.
The quest for more time is Rayados' gain. They're still getting a player who very feasibly could play at a high level beyond the three-year deal he signed this week. Alonso can use him in a variety of places in a roster that already looks like it has the pieces to make a playoff push and perhaps even break through this season.
Currently the league leaders, Monterrey definitely gets better with Layun giving them even more flexibility. Jesus Gallardo can push up into the attack with Layun behind him. He can outright take a job from Stefan Medina on the right or Leonel Vangioni on the left. Or he can play further up the field, where he could excel as a wingback with a back three of Medina, Cesar Montes and Nicolas Sanchez.
The decision to come back to Liga MX should lead to plenty of playing time for Layun, plenty of joy in his personal life as he moves closer to family and friends, and ultimately a successful partnership between player and team. While Mexico fans have reason to be frustrated bout certain players (Salcedo) coming back from Europe too soon, the time was right for Layun's European adventure to close and the final chapter of his career to begin.