Transfers
Jose Antonio Reyes arrives in Shanghai amid Tevez replacement rumours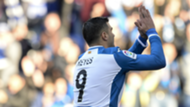 Former Arsenal, Atletico Madrid and Sevilla winger Jose Antonio Reyes has arrived in China amid rumours that he is set to replace Carlos Tevez at Shanghai Shenhua, where the Argentine has struggled so far this season.
Sevilla 17/20 to win CL Group E
The former Spain international revealed a fortnight ago that he would play in the Chinese Super League (CSL), with Spanish media claiming his destination would be Shanghai, where he would be brought in to replace the former Manchester United striker. 
The CSL outfit immediately denied those reports, insisting they made no approach to Reyes, but the 34-year-old made his arrival Friday morning.
"As a professional player, I really fancy an opportunity to integrate into Chinese football leagues," Reyes told reporters at the airport.
"It's great to be here also because Shanghai is the economic centre of China."
While Reyes did not lay out which team he would be signing with, he claims that the improving star power in China played a part in his decision to make the move. 
"I think the CSL have improved tremendously because many great players have chosen to play here," he said. "I pay close attention to the league and I read news reports about it and watch live CSL games through the internet.
"Money is hugely important for the development of a football league. If China could really invest that money properly, Chinese football will make great progress."