Bayern München
Wonderkid Davies to train with Bayern first team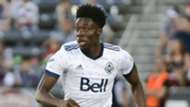 Niko Kovac has confirmed that Alphonso Davies will go straight into training with the first team at Bayern Munich.
The teenager, signed from Vancouver Whitecaps for $13 million (£9.8m), played his final game for the MLS club on Sunday, having scored 12 goals and provided 14 assists in 81 matches.
Such is the affection for him in Vancouver, he became known as "Kid Canada", the wonderkid with the world at his feet.
And Kovac has assured fans that Davies, who turns 18 on Friday, will be embedded with the stars of the club from the start.
"If you spend so much money on a young player, you will not park him in the second team," Kovac said.
Davies made his professional debut at the age of just 15 and made his debut for Canada at the age of 16, playing against Curacao.
He has since won seven more caps for his country, and ended the Concacaf Gold Cup as the joint-top scorer, netting three times.
With the move to Europe now underway, Davies issued a heartfelt message to the club where he has become a star, thanking them for their belief in him.
"Vancouver, you took me in when I was just a kid. I was only 14, I didn't know if I'd make it but you believed in me, you challenged me, you gave me an opportunity to play the sport that I love and realise my dream of becoming a professional footballer," he told the club's official website.
"For that, I'll forever be grateful. These three years have been the best of my life. Every time I stepped on the field for this great club I tried to give my all and play with a smile on my face.
"You supported me every single time. I heard you every single time. You will always be part of my story and now it's time for the next chapter. It's time to say goodbye. Thank you Vancouver, you will always be in my heart."
Davies is the most expensive purchase ever from MLS, with his move to Bayern hailed as a "landmark" when he signed.