Manchester City
'We are f****** champions!' - Mendy leads celebrations as Man City seal title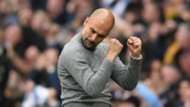 Manchester City's crowning as Premier League champions may come as no surprise to any football followers, but few would have expected their celebrations to start this way.
Manchester United avoided the embarrassment of seeing their rivals secure the title at their expense last week when they came back from 2-0 down to beat Pep Guardiola's side at the Etihad Stadium, but went on to undo their work when they collapsed at home to West Bromwich Albion and officially end the title race.
A day after City beat Tottenham Hotspur 3-1 to go 16 points clear of second-place United, Jay Rodriguez ensured the race was officially over with a goal in the second half at Old Trafford to give the league's bottom side the win.
As Jose Mourinho's side laboured through the rest of the half, the celebrations were kicked off by Benjamin Mendy on Twitter and the congratulations flowed on social media from there.
West Brom took credit for City's confirmation, displaced champions Chelsea hailed them as worthy winners and even the beaten United bowed to them.
WE ARE F****** CHAMPIONS @ManCity congratulations boys !!!!!!

— Benjamin Mendy (@benmendy23) April 15, 2018
Our Time. Our City.

Premier League Champions 17/18 #mancity pic.twitter.com/lztlN3lWFW

— Manchester City (@ManCity) April 15, 2018
You're welcome, @ManCity.#WBA pic.twitter.com/IR3iesrys2

— West Bromwich Albion (@WBA) April 15, 2018
Congratulations to Manchester City on their Premier League title win.

— Manchester United (@ManUtd) April 15, 2018
Congratulations to @ManCity - worthy @premierleague champions this season.

— Chelsea FC (@ChelseaFC) April 15, 2018
Congrats, @ManCity!

Premier League Champions 2017/18. pic.twitter.com/0obiHLSk1b

— Goal (@goal) April 15, 2018
Champions!!!!!! What a great feeling!! So happy to be able to share another trophy with our amazing fans!#ManCity #SharkTeam #Champions pic.twitter.com/8CqCtyX7vi

— Vincent Kompany (@VincentKompany) April 15, 2018
YEAHHHHHHH @ManCity

— Bernardo Silva (@BernardoCSilva) April 15, 2018
 

— Aymeric Laporte (@Laporte) April 15, 2018
Congratulation to my former team @ManCity for winning the @premierleague 17/18 Best team in the league Blue moon is rising in Manchester tonight.

— Pablo Zabaleta (@pablo_zabaleta) April 15, 2018
@ManCity - what an incredible season! pic.twitter.com/PVMd1pqMTD

— Premier League (@premierleague) April 15, 2018
7 - Pep Guardiola has won the top-flight league title in seven of his nine seasons as a manager, with the only exceptions being 2011-12 at Barcelona and 2016-17 at Manchester City. Mastermind. pic.twitter.com/wLGOio3MU2

— OptaJoe (@OptaJoe) April 15, 2018
While there was plenty of praise for City, the humiliated United received their share of ridicule after giving West Brom just their fourth win of the season in the league.
People thought winning against Man Utd would be the perfect way for Man City to win the Premier League.

But no. No. This way is much better

— Ronan Murphy (@swearimnotpaul) April 15, 2018
You beat the best team in the league away. Then you lose to the worst team in the league at home.

A perfect reflection of @ManUtd 's season.

— Övie (@OvieO) April 15, 2018
If Man Utd beat Man City, and then West Brom beat Man Utd, then, in my eyes, that makes West Brom champions.

— Richard Osman (@richardosman) April 15, 2018
Live scenes from Old Trafford when @ManUtd face West Brom. pic.twitter.com/HGqj98uhsm

— Kyrie Harshving (@krazyhandles) April 15, 2018
Trying to figure out how this awful Man Utd team will finish above Liverpool and Spurs this season. pic.twitter.com/nYr1IjXCwv

— Not Match of the Day (@NOT_MOTD) April 15, 2018
FULL TIME: Man Utd 0 - 1 WBA pic.twitter.com/1p7nduxpSE

— Paddy Power (@paddypower) April 15, 2018