U17 World Cup
Under-17 World Cup: India to play Mauritius next week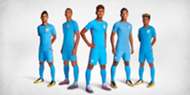 Luis Norton de Matos' India Under-17 side will finally get a chance to test themselves ahead of the Under-17 World Cup next month.
The Indian team, who are currently training in Goa until the 24th of this month before moving to Delhi, are to play an international friendly against Mauritius next Wednesday.
Although the All India Football Federation (AIFF) invited the likes of Singapore, Malaysia, South Africa and Indonesia to play a game in Bangalore and Goa, the said teams rejected the offer to play India at the last minute.
India are grouped alongside USA, Colombia and Ghana in Group A of the Under-17 World Cup.