Ahmad Khamarudin
Throwback Tuesday: Ahmad Latiff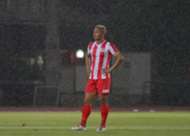 As a player Ahmad Latiff was destined for great things. Especially if one is touted as the successor to a footballing luminary like Fandi Ahmad. Latiff was a dynamic midfielder who had the skills that could thrill an audience but he could also provide the onlooking crowd with moments of disbelief due to his rash and ill-disciplined behaviour, which earned him the nickname, "bad boy of Singapore football". But there is no denying the man was truly a character that lit up the local game.
As a 19-year-old he burst onto the scene in the 1998 Tiger Cup (today's AFF Suzuki Cup), to help Singapore clinch its first ever international trophy. His prodigious talent led him to scoring three goals in the group stages, including a quick-fire brace against Laos. While his talent took him three steps ahead his temperament made him take two steps back as he was sent off in the final against Vietnam. This narrative would be a main theme throughout the playmaker's rollercoaster career.
Latiff started his career at Tampines Rovers' youth team in 1996 before moving to Geylang International (then known as Geylang United). At Geylang, his excellent performances led to him becoming the second S.League Young Player of the Year. By this stage many coaches were already starting to predict a bright future for him. It would not be long before he ventured overseas as he secured moves to Malaysia, Indonesia and a trial in Hong Kong.
In the early 2000s, he would return from his overseas stint and sign with Warriors FC. Latiff's creativity in attack saw him attain relative success with the club, in which he represented them in the AFC Champions League while earning league medals along the way. In 2007 the forward signed for the now defunct Woodlands Wellington where he would be engrained in the club's history.  He would help the club to its first piece of silverware winning the League Cup. Soon after he would join Tampines Rovers in 2011 and collect another two league medals with the Stags before joining Tanjong Pagar in 2012. The flamboyant midfielder hung up his boots in 2014 after the Jaguars quit the S.League.
Success at club level came easy to Latiff but on the international stage it was stagnation.  He would be limited to just 43 appearances due to his errant ways. Furthermore his struggle with passing the beep test was also no secret infamously taking 13 attempts before passing it. Adding to all this was his fractious relationship with then-coach Raddy Avramovic.  Though Latiff was eventually recalled to the squad in 2006, he was eventually omitted after reacting angrily to the coach's decision to substitute him after just 25 minutes during Singapore's Asian Cup qualifying match against Iraq in the United Arab Emirates. His contrasting fortune on the international stage led many of Singapore's football fans to lament on what could have been.
Latiff's footballing story is one that will continue to be a talking point among Singapore's footballing fanatics. At times his graceful performances were upended by his gullibility but there is no doubting of the talent he possessed.  A fan can never know what to expect when Latiff was on the pitch as he was capable of both the beautiful and ugly. Above all this bad boy was indeed one of Singapore football's finest and for that we salute him.