Africa Women Cup of Nations
Nigeria's Thomas Dennerby admits tough Africa Women Cup of Nations draw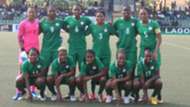 Nigeria senior women head coach Thomas Dennerby says the 2018 Africa Women Cup of Nations will be tough for his team following Sunday's draw in Accra.
The Super Falcons are looking to scoop the African title for a record ninth time and have been zoned with four-time runners-up South Africa, Zambia and Kenya in Group B.
With the holders opening their title defence against Banyana Banyana, the Swede is upbeat about their chances of pulling through despite being troubled by their inactivity.
"It was an interesting draw with three good teams joining us," Dennerby told Goal.
"One good thing was that I saw all four of South Africa's games in Cyprus earlier in March. I know a lot really about the team and have a good picture of them.
"For now, I have not seen much about Kenya and Zambia but I will start to use my in-logs to get their games and analyse them because we won't underrate them.
"We need to go through to the semi-finals. But It will not be nice to put pressure on the players. We have to stay relaxed, focused and hardworking.
"My approach to players is to show them that I am confident and everyone around the team make a good environment for them to perform well. It is football and not about life and death."
While expecting a tough opener against Desiree Ellis's side, the 58-year-old believes they have a good chance to make a winning start in Cape Coast with good preparation.
"I think that it will be tough in our own case because as everybody knows we've not played any game for a long time since our qualifier against Gambia," he continued.
"So, If we do not have any game now, the match against South Africa could be our first match for us in five months and that will be very tough for us.
"But we have a good chance and got nothing to be worried about, even though we need to have a background knowledge of the teams we are going to be playing.
"I saw our last game against South Africa a couple of times and felt after watching it that they were as good as Nigeria.
"But now, it is a new tournament and every game have its own life and we have two-three weeks to train and prepare for the competition. I believe we will be fine."
document.write("");