AZ
Meet Guus Til: Netherlands' unlikely international prodigy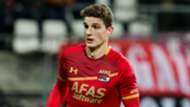 As a key player for an ambitious AZ and a recent debutant for the Netherlands national team, Guus Til is in the early stages of a career he thought was well beyond his grasp just a few years ago.
The attacking midfielder considered walking away from the Dutch side's youth system at 16 because his small stature consigned him to the bench and he was cautious enough to sign up for a business economics course.
His coaches had faith he could make it, however, and his quick physical development propelled him into the senior side, where goals in his first two Eredivisie appearances provided a glimpse of a player with a lot to offer.
Now 20, standing at 1.83 metres tall and recently given a contract extension to 2023, the future has been decided amid a rise as rapid as the growth spurt that turned a frustrated prospect into an established first-team regular.
Til's knack for decisive goals since his sublime league debut strike against PEC Zwolle in September 2016 has seen him take a prominent role in a team set to split the traditional top three under John van den Brom.  
"Guus has become enormously important for this team in a relatively short period of time," Van den Brom said. "It is not just his depth, but also his pressing and play in transition. You can enjoy it."
Lumbering around the opponents' half, he looks for space to appear in the box and invades at the right time. Often shadowing striker Wout Weghorst or making a sharp run behind defenders to combine with dazzling wingers Oussama Idrissi and Alireza Jahanbakhsh, he pops up at vital moments to put the finishing touches to neat moves, racking up eight league goals this term.
Facing more combative and pressing teams, he drifts into a more box-to-box role, putting his immense energy and work rate to good use to help win back possession and help instigate quick attacks.
When AZ are fighting for the ball, his pressing can be a bit reckless as opponents find it easy to trail him out of position and move into the spaces he leaves behind and would be sneaking into in different circumstances, but he has time to refine his game in an exciting team.
His inclusion as one of five of those given a first experience with the national team in Ronald Koeman's maiden squad for the friendlies against England and Portugal was justified as Oranje look to find a new identity. He was restricted to a cameo against Portugal, but seeing the condition the likes of Memphis Depay and Virgil van Dijk are in proved to be an educational week for a youngster aiming to reach the very top.
"Football is actually a game of thought, I notice that they think a little faster than I do," he said. "They have noticed small things before I've seen them, except in football, they are not small things, they are very decisive."
"When I'm standing on the field and I look at the legs of Virgil or Memphis, I think: well, there's something to think about, Guus. That's an eye-opener. It makes me aware of what is needed to make the next step.
"There is still work to be done, that is clear. I am a late bloomer in many ways. I don't have hair yet. I'm talking about a beard, to be clear. That has to do with testosterone. There is still a lot of growing for me to do, also physically. Not that I have to grow huge thighs and calves, that is not really necessary with my way of playing. For my type of game, I need a hefty body and I'm working on that."
His quick development in Noord-Holland is attracting an increasing amount of attention, and although he is only getting good publicity, the Eredivisie's eternally happy camper has had to accept it grudgingly. The focus on his game and discussion around him in the media makes him uncomfortable, but that has not hindered his blossoming reputation as a delightful character with his snappy responses and honesty in interviews.
Til admits to "despising" some aspects of the game and has no time for the pursuit of riches and glamour in which many of his fellow professionals get caught.
"It's about money and status and I have nothing to do with that myself," he told AD. "It doesn't not put me off, but sometimes I despise it. Sometimes I miss school life. Then you still have people around you who live in more normal circumstances, who don't already make an absurd amount of money for their age.
"I see cars and watches pass by that you don't usually get at this stage of your life. That is very far from how I was raised. I was brought up with the idea that you are in the world to help society. That not everyone has the same opportunities."
That outlook on life may be inherited from his parents and his interesting upbringing. He was born in Zambia and spent a couple of years in Mozambique due to his father's work overseeing projects in developing countries, but has lived in Netherlands since he was three.
His love for the game – "the best thing there is" - soon took hold as he grew up playing in the streets in Amsterdam before joining AZ at 12 years old. A boyhood Liverpool fan, he could hardly even bring himself to dream of playing in front of the Anfield crowd.
As his stature continues to rise at a rate that surprises even he, he might not want to rule anything out.