MLS
Is it time to change the MLS All-Star Game format?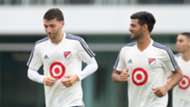 A sell-out crowd of more than 70,000 fans will fill Mercedes-Benz Stadium on Wednesday for the 24th playing of the MLS All-Star Game. For the 15th time in a row, MLS all-stars will face a team from Europe in the summer showcase — with Juventus being the latest to participate — and there is plenty of reason to believe the league has outgrown the format.
The original MLS All-Star Game set a high bar for the event, with a sell-out crowd of 78,416 filling Giants Stadium. The size of that inaugural crowd had more to do with the second match played that day, between the Brazilian national team and a World All-Star team that included Jurgen Klinsmann, George Weah and Lothar Matthaeus. MLS never saw even half that many fans in the all-star games that followed in the years after, leading MLS to consider a change in format.
In 2002, MLS pitted its All-Star team against the U.S. World Cup squad in a match that was as much about celebrating the U.S. team's recent quarterfinal run at the World Cup as it was about MLS. A year later, MLS stars faced Chivas Guadalajara. Then came the big move, to bring in a high-profile European opponent, only to see Real Madrid back out of taking part in the 2004 All-Star Game, leaving MLS to go back to an East versus West match one final time, a 3-2 East win in front of a modest 21,378 at RFK Stadium.
The 14 all-star games that have followed have seen clubs such as Chelsea, Bayern Munich, Manchester United and Real Madrid take on the MLS stars, filling out stadiums both large and small along the way.
Fast forward to the present day, and the league is in a much different place than it was in 2004. It is now a league with a long list of international stars, one that would have no problem filling a stadium to watch the league's best face off against each other.
One player who would be fine with a return to the old is Atlanta United goalkeeper Brad Guzan, who will be the starter for the MLS All-Stars against Juventus.
"I grew up watching the East versus West and all the different skills challenges and whatnot," Guzan said. "In terms of the competition and playing some of the biggest clubs around the world, that part is obviously great. It's exciting. We understand that they're in their preseasons gearing up for their long seasons ahead.
"But at the same time I think its something to be said with the fact that the league has grown so much in, ultimately, such a short amount of time that you probably could get away with playing an East vs West and still have a fantastic game with a fantastic turnout," Guzan said. "I think as these guys sitting next to me, their names alone speak volumes about how much the game has grown, and the attention they bring from the media and from the fans. I think it could go either way and I don't think you'd have a drop in popularity and quality or anything like that."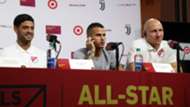 To understand how Major League Soccer came to the decision 14 years ago to change the format of its All-Star Game to include European clubs as opponents, you need only look at the rosters of the final match before the format change, back in 2004.
Back then, MLS still ran the All-Star Game as a showcase of Eastern Conference versus Western Conference, but the game lacked superstars. This was in the era before David Beckham, and the stream of designated players who followed after Beckham blazed the trail for high-profile stars to make the jump to MLS. The 2004 match featured Landon Donovan and then-rookie Freddy Adu, who was a headliner back then as he was in the midst of the hype craze that marked the beginning his career. As far as international stars went, Amado Guevara and Jaime Moreno were among the league's best foreigners back then, but there were no household names in the mix. No Beckham. No David Villa. No Thierry Henry. 
This year's all-star game will feature the Mexican star Carlos Vela and Italian sensation Sebastian Giovinco, as well as Atlanta United's dynamic duo Josef Martinez and Miguel Almiron. It will also include recent Bayern Munich signing Alphonso Davies. That group of names alone would have helped sell out Mercedes-Benz Stadium, which has been filled regularly by Atlanta United, and that's even with Zlatan Ibrahimovic and Villa sitting out the match.
What would an MLS All-Star Game look like with only MLS players? A return of East versus West would work, but MLS could also have some fun with the format and take a page from the NBA and NFL, which had two team captains choose their squads. Imagine Vela and Giovinco drafting their own teams, or a player from the host market serving as one of the captains.
Ultimately, MLS has enough standout players to make an all-MLS match a memorable showcase, and a significantly better event than the games that were played in the early years of the league. That isn't to say that having teams like Real Madrid and Juventus play in the All-Star Game doesn't have its own appeal, but we are at a point now where MLS has outgrown the need for outside help to prop up what is supposed to be a showcase of the league's best players.