A-League
Garcia to play in Carrick's testimonial match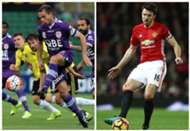 Richard Garcia will swap nib Stadium for Old Trafford after receiving a call-up to play in a testimonial match for close friend Michael Carrick of Manchester United.
The Perth Glory midfielder will line up on June 4 with Carrick - who Garcia claims he almost lured to the A-League - as well as Steven Gerrard, Michael Owen and Frank Lampard in an All Stars team.
Their opposition will be United's 2007-08 Premier League title-winning side, featuring Edwin van der Sar, Gary Neville, Rio Ferdinand, Paul Scholes and Ryan Giggs.
Garcia and Carrick played together as teenagers West Ham United's youth side of the mid-1990s which also included Lampard, Joe Cole and former Melbourne Victory and Wellington Phoenix midfielder Michael Ferrante.
Carrick to quit football if Mourinho denies extension
They have remained close for the last two decades and were groomsmen at each other's weddings.
"We were never far apart from each other for a long time," Garcia told Fox Sports.
"When we left playing together at West Ham, he went to Spurs and [I went] to Colchester around the corner in London so that was easy.
"And then it was the same when he went to Manchester and me to Hull — it's really close so we remained close."
Very proud to be awarded a testimonial by @ManUtd in partnership with my new foundation @_MCFoundation #CarrickTestimonial pic.twitter.com/ddkFJv5Gnb

— Michael Carrick (@carras16) March 2, 2017
In fact, Garcia came close to convincing Carrick into Glory colours for this season.
"It was looking really good there for a while," he said.
"There was a good chance he would have made the move had Louis Van Gaal stayed on at United but once that changed the lure of playing for the one club for so long and ending your career there was too much."
Why Glory will wait for Diego Castro
Garcia has had limited game-time in his third season with Perth, playing just two A-League games this season.
But having come off the bench last week against Sydney FC, the 35-year-old will hope to be involved when Glory visit Adelaide United on Friday.