Arsenal
Gabriel: I deserved more chances at Arsenal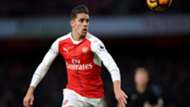 Gabriel Paulista says he faced undeserved criticism during his time at Arsenal and should have been given more chances in the first-team.
The defender joined the Gunners from Villarreal in January 2015, but spent spells on the sidelines and started 37 of his 46 Premier League appearances for the club before being sold to Valencia in August this year.
Valencia 3/1 to beat Barcelona
The Brazilian has become a first-team regular in Spain once again, but feels he barely had the opportunity to cement his place in Arsene Wenger's starting XI.
"I deserved more of an opportunity. Sometimes I played because my team-mates were injured. I did play and sometimes even after playing well, I'd go home sad, given that I was only playing because my team-mate was injured," he told Sky Sports. 
"I don't think I deserved that. I think I had the ability to play and to start games because I deserved to do so, or because I did well in training, but that didn't happen.
"Sometimes I'd play three or four games and if Arsenal lost, I'd be dropped and everyone on the outside would say: 'It's Gabriel's fault'.
"That wasn't good for me. People thought: 'When that guy plays, Arsenal always lose.' When [Hector] Bellerin got injured, I played at right-back and Arsenal started to lose.
"I think I played in four or five games en route to the FA Cup semi-final against Manchester City and I played brilliantly in that game. I played really well and I received plenty of praise. Then I think we faced Tottenham away and lost, I gave away a penalty in that game and lost my place in the team. I didn't play again.
"I played in the last Premier League game because everyone was injured, all the centre-backs were out…I was quite down about how it went because of these reasons and it didn't sit well with me."
Gabriel, 26, signed a five-year contract with Valencia and has made nine appearances in all competitions for the current second-place team in La Liga. 
His side welcome league leaders Barcelona to the Mestalla on Sunday.