Gaming
Fantasy Football: Aguero, Jesus and De Bruyne feature in the Manchester City conundrum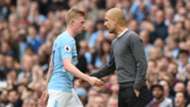 Trying to second guess Pep Guardiola's rotation policy at Manchester City has been a thorn in the side of many Fantasy players thus far.
Last week, despite terrific recent performances, both Gabriel Jesus and Raheem Sterling were dropped from the starting line up against Burnley. Conventional wisdom said to respond to that by bringing in Aguero… who then played 120 minutes midweek against Wolves in the Carabao Cup. That now throws the Argentine's chances of starting on Saturday into doubt despite his recent spike in ownership. So what's the answer here?
It would be lovely if we could all avoid these frustrating rotation issues but, unfortunately, Manchester City are the best team in the Premier League. Not only do they currently top the table, but Guardiola's team have also scored the most goals while simultaneously conceding the fewest. Basically, you have to own at least one of their players. If you can find the money, you really may want to own three City players.
Here's a look at some of the best options and their chances of becoming the gems in your Fantasy crown over the coming months.

Kevin De Bruyne - Midfielder, £7.8m, owned in 36.87% of teams
Chance of starting - Very Good
After a slow start to the season, De Bruyne has really turned it on of late having scored a goal and recorded four assists in the last five matches. He is easily one of the best creators in the Premier League and currently sits first in chances created and assists while placing second in accurate crosses. While the wing and striker positions keep fluctuating, the Belgian's game time is all but guaranteed having played 60+ minutes in every league match thus far this season.
Verdict - On current form, Kevin De Bruyne is a must own.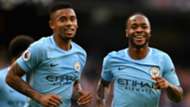 Gabriel Jesus - Forward, £8.2m, owned in 18.03% of teams
Chance of starting - Pretty Good
Being dropped last weekend was obviously a blow, but Jesus definitely still holds value. With Aguero coming off 120 minutes in the Carabao Cup and Kelechi Iheanacho now at Leicester, Jesus is a solid bet to start against West Brom this weekend. His six goals make the Brazil international top five in the league and have come in just seven starts so, if he's in the XI you can count on high level production.
Verdict - Ownable but long-term rotation concerns cap his upside
Sergio Aguero - Forward, £8.6m, owned in 17.61% of teams
Chance of starting - Not Good
Aguero is still the best striker at the club but has played in a surprisingly low 66% of matches over the last two seasons. While his price and injury/suspension history have definitely have turned many off, the Argentine forward has placed in the top 5 goal scorers in five of his six seasons in the league. He will miss matches here and there (this weekend looks likely) but if you stick with Aguero you'll have many, many points by season end.
Verdict: Good "set and forget" option, but there is better value out there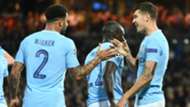 Kyle Walker - Defender, £7.0m, owned in 16.51% of teams
Chance of starting - Very Good
The former Tottenham man's Fantasy success should come as a surprise to few. Walker finished as a top five defender in the Goal game last season and currently sits fourth in this one. City have conceded the fewest goals in the Premier League and Walker has played in all but one match (suspension) which should allay any rotation fears. His price is admittedly high, but only Ederson and Phil Jones have lower prices and more points.
Verdict: Expensive but worth it
Leroy Sane - Midfielder, £7.8m, owned in 13.37% of teams
Sane has been an absolute nightmare for opponents of late, notching three goals and four assists in the last five matches. After starting just once in the first five matches, the German has now started the last four Premier League matches for City. As for the West Brom match, Sane should once again get the start having only played 25 minutes midweek in the Carabao Cup. Only three players (Kane, Otamendi and Aguero) have more points in the Goal game than Sane.
Verdict: Great counter play to Salah, De Bruyne, Salah, Alli, etc.