WTF
EXTRA TIME: Watch Steve Komphela impersonator Mdluli on Women Abuse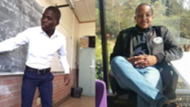 This time he's decided to teach fans a lesson that is not so funny. Mdluli is in fact a teacher by profession and he's decided to talk about treating females with respect. 
It might seem funny or bizarre to mix humour with such a serious topic, but Mdluli is spreading a good message for South Africa.
Watch and listen to the Komphela impersonator with his regular interviewer Nyameko Radebe here.
The video is not that clear but we hope the message is.
Abuse Is Wrong! pic.twitter.com/RcCvZWmh26

— Smangaliso Mdluli (@SimangalisoMdl2) May 22, 2018