Barcelona
EXTRA TIME: South Africa react to Barcelona's arrival to play Sundowns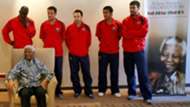 Enjoy all the Twitter reaction from South African fans, looking forward to Mamelodi Sundowns hosting Barcelona on Wednesday night.
Yes, that's Leo Messi for real in the flesh. Many fans had to see it for real to believe it. Messi is here to play against Sundowns, and so are all the Barca stars.
SA fans are looking forward to catch a glimpse of Phil Coutinho, Luis Suarez and Andres Iniesta. Many of the Barcelona stars have already played in South Africa before, and that was during the 2010 Fifa World Cup which Spain won. 
So, many of Barca's players mostly have fond memories of the country. You can watch videos of the player's arrival and enjoy the social media reaction here.
Friendly? thought it was the Nelson Mandela Challenge Cup?  https://t.co/qhb0k2QMRx

— DiskiStyle (@DiskiStyle) May 16, 2018
 South Africa!
 #SundownsBarça
#ForçaBarça pic.twitter.com/5nJZgB4isx

— FC Barcelona  (@FCBarcelona) May 16, 2018
Suarez's back in (South) Africa and FNB Stadium/Soccer City since this happened? I'm still reeling... from a missed penalty too. #FIFAWorldCup #SundownsBarça @Karabo_Mokwele @ashanica @nealcol pic.twitter.com/qb9Tagr0Vc

— Tshepho J. Mokwele (@Tshepho_Mokwele) May 15, 2018
Waiting for #Messi and company #SundownsBarça pic.twitter.com/TD2kq5rnG0

— Mahlatse Mphahlele (@BraMahlatse) May 16, 2018
THERE HE IS! @teammessi has landed at @ortambo_int #sundownsbarca pic.twitter.com/f5fQXQFre1

— Neal Collins (@nealcol) May 16, 2018
Lionel Messi is here! Excitement as @FCBarcelona arrives at @ortambo_int in Johannesburg ahead of their @Masandawana clash. Video courtesy: @BraMahlatse #SundownsBarça pic.twitter.com/zWHcwTr3ZT

— Sowetan LIVE (@SowetanLIVE) May 16, 2018
Champs happy to face champs#Sundowns_ #sundownsbarca pic.twitter.com/650iGMTk9t

— Sundowns_TVNews (@Sundowns_TVNews) May 15, 2018
Heavy security at OR Tambo International Airport this morning ahead of @FCBarcelona's arrival #SundownsBarça https://t.co/Xt7AJ9kIav

— Sowetan LIVE (@SowetanLIVE) May 16, 2018
I will be supporting Sundowns because I'm a patriot 🇿🇦 but no one's allowed to tackle Messi please. Mans gotta play in the World Cup. #SundownsBarça

— Karabo Mokgoko (@Karabo_Mokgoko) May 15, 2018
Rt if you gonna be watching #SundownsBarca match on TV. I know I won't be only one  pic.twitter.com/W1TEpoKizT

— Daniel (@Mofokeng_Sk) May 16, 2018
#SundownsBarça
He's really coming  pic.twitter.com/r922kjBNtf

— Thendo_SA🇿🇦 (@BradleyPhara) May 15, 2018
So Messi is going South Africa, I just hope those boys don't use the anger of not qualifying for World cup To break his leg and make him ineligible. I just pray so #SundownsBarca

— ↖ (@ERNESTHDGAMER) May 15, 2018
When your neighbour is driving off to FNB to watch #SundownsBarça and you were bathing so you don't miss a thing on SABC... pic.twitter.com/TPJZRMZU3o

— VEE-ONE (@VeeTnashMotsi) May 16, 2018
#SundownsvsBarcelona #SundownsBarça

When you think you Gave Support but The Country Be Like: pic.twitter.com/kskiu7llwF

— LeRe@l LrdKelv (@LeReal_Nsibande) May 15, 2018
South Africa #SundownsBarça
 #ForçaBarça pic.twitter.com/f78QV6lVJu

— FC Barcelona (@FCBarcelona) May 15, 2018