Mohun Bagan v West Bengal Police
CFL 2018: Mohun Bagan gaining steam with Kolkata derby in sight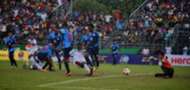 Mohun Bagan are striking all the right chords before they head into the Kolkata derby on September 2. Sankar Lal Chakraborty's men were the superior team by a mile in all three departments against a lacklustre West Bengal Police side in the Calcutta Football League (CFL) on Saturday and the 5-0 scoreline justifies their heroics on the pitch. 
The changes in the starting XI and the substitutes effected made it evident that Chakraborty was working on a definite plan to fulfil two objectives. First, to score as many goals as possible to have a healthier goal difference than East Bengal. The second was to hand game-time to the players who are likely to feature in the derby so that they can gain match sharpness. 
If starting with Aser Dipanda and Henry Kisekka fulfilled the first target, then bringing back Shilton Paul under the sticks and later calling on Mehtab Hossain and Abhinas Ruidas into action served the second. 
Bagan had concerns regarding their profligacy in front of goal. But against Police, they showed far greater efficiency in front of goal and had it not been for the two goal-line saves early in the first-half the score-line could have been more humiliating for Sahadeb Bhowmick's men. Kisekka was slightly off-colour as it seemed that the striker had left his scoring boot at home but his injury-time goal and then an assist to Dipanda for his hat-trick was enough to redeem the Ugandan. 
Chakraborty's match reading and making subtle tactical changes accordingly also deserves praise. His opposite number seemed to have taken a leaf out from fellow Rainbow coach's tactics to overcrowd the midfield and neutralize the dual threat of Dipanda and Kisekka. But while doing this his team was leaving acres of space behind the defence for the Bagan wingers to run through.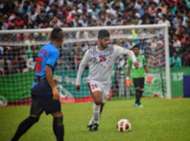 The former assistant coach instructed Dipanda and Kisekka to operate on a slightly deeper position. This also helped them to hold the play and buy enough time for wingers Britto PM and Pintu Mahata to get into a position where they can use their pace to beat the opposition wing backs.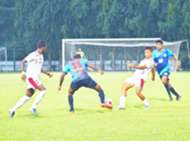 In the build-up to the second goal, Bagan exchanged numerous passes at the centre of the park before Shilton D'Silva's long ball set up Britto who showed excellent control before scoring his first in his new colours.
Sourav Das and D'Silva's partnership worked fluently at the centre of the park. They not only anchored the midfield but also showed eagerness in initiating attacks and making incisive forward passes which was a refreshing break from their monotonous square passing in the previous matches. Their performance would relieve Chakraborty of his midfield concerns but it must also be taken into account that their adversaries were mostly local players without any overseas signing. 
Bagan had started sluggishly but they are gaining steam at the right time. In their next match they face Aryan and Chakraborty knows pretty well that Rajdeep Nandy's men will be a tough nuts to crack. They have already given Mohammedan Sporting a run for their money beating them 1-0 and the team has enough potential to cause another upset. But if Bagan can replicate today's performance in Kalyani against a rugged Aryan side, they would not only pick up the three points but also head into the Kolkata derby with a shot in their arm.