A-League
Mariners believe in finals push - Izzo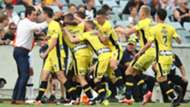 Goalkeeper Paul Izzo says belief is growing at Central Coast Mariners that they can make the A-League finals after Sunday's win over Adelaide United.
The Mariners won back-to-back games for the first time in almost three years as goals to Fabio Ferreira and Kwabena Appiah saw them beat the Reds 2-1 in Canberra.
Seemingly out of top six contention just a fortnight ago, Central Coast are now just five points behind sixth-placed Western Sydney Wanderers, who they face in a massive clash in Round 19.
"It's a massive [result]," Izzo told Fox Sports.
"We've been unlucky for so long.
"We knew we were playing great, we needed to get results like we're now doing and hopefully we can make a late push [for the finals]."
The Mariners finished last season with just three wins and 13 points to claim the wooden spoon.
After 18 rounds of the 2016-17 campaign, they have four wins to their name and 16 points.
"We know we're progressing and it was only a matter of time before we started turning heads and people started taking notice," Izzo said.
"We're proud of today."
The young gloveman was excellent for the Mariners, making a couple of important saves to keep Adelaide out while the match was still in the balance.
Izzo's excellent display was even more impressive considering he copped a Sergio Cirio shot directly in the face in the second half.
"It hurt a lot," he said.
"I was a bit dazed for a bit and trying to figure where I was and figure out the score for a second. But I was fine, I got through it."