Mexico
Guardado provides security blanket: Five Thoughts from Mexico's win over Poland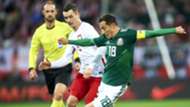 It was a successful trip to Europe for the Mexico national team, which drew Belgium 3-3 on Friday and topped Poland 1-0 on Monday.
These are the kinds of matches that Mexico needs ahead of the World Cup. After clearly arriving to the Confederations Cup outside the top tier, El Tri has to continue improving and learning going forward.
"There are a lot of lessons, not only things to improve as a team or as a group but also how to go into these types of games," Mexico manager Juan Carlos Osorio said after the win. "That includes playing as a visitor against fans supporting the other teams. When we play friendlies in the United States, we're always the home team. So apart from what I could say individually to each player I think as a collective we've had a lot of great lessons."
Let's look at five of those lessons from the match against Poland:
---
Safety comes from Guardado
---

Andres Guardado was excellent in midfield Monday, providing plenty of ideas going forward and stopping Poland's attacks in the middle. More significantly was the security-blanket type position he accepted. Things could've gone wrong with Guardado playing between two players without much experience at the international level in the positions they were playing Monday. Jesus Gallardo almost always had Guardado as an outlet when he got stuck with the ball as the left wing back, while defensive midfielder Diego Reyes was able to lean on Guardado as he did in the match against Belgium.
It's the latest building block in a career resurgence for the 31-year-old Guardado, who may begin to get more attention as a veteran presence if Rafa Marquez's absence continues. This is a player who should surpass 150 international caps next season and has played a huge part for Real Betis since returning to La Liga this summer. Guardado was clearly pleased to be facing two teams ranked in the top 10 of the FIFA rankings and hopes for more tests in the build-up to the World Cup.
"I think we have to keep looking for teams at that level so we can show we can compete against any team at the World Cup and also to show that Mexico has a good level, that we have good soccer, we have good players, that we're going to go to the World Cup and really compete and try to have a historic World Cup as we want to," he said after the Poland game.
Locker-room leadership will be important at Russia, but Guardado turned in two performances of the highest quality during this November window, and clearly his presence on the field gives his younger teammates comfort and confidence. 
---
Gallardo giving options
---

Jesus Gallardo could be another experiment for which Juan Carlos Osorio's critics ridicule him, but the decision to try the Pumas winger at left back is turning into one of the better decisions the manager has made with his squad. The knock on Gallardo is that his defensive showings haven't yet indicated that he could be an option against a top-quality team of the level Mexico will face at the World Cup. One performance isn't quite enough to change that, but the 23-year-old was serviceable against Poland both as a wing back for the first hour and as an outright left back as he was one of five El Tri players to go the full 90 in the friendly.
If Gallardo can become a true option on the left side not only against CONCACAF teams in the Gold Cup but also against big-time international sides like the ones Mexico met this month, the right back problem could be solved. Wait, what? But Gallardo is a left back, right?
True, but since his arrival as Mexico coach, Osorio has enjoyed putting one of El Tri's top left-back options, Miguel Layun, on the right side — and the few minutes Layun is seeing with Porto are coming at right back this season. Pumas' situation is unclear, but it's not unthinkable Gallardo will get left-back reps at the club level during the Clausura. Layun still will be a first choice on the left, but when the time comes for a five-man back line, the one Mexico played Monday didn't function poorly at all — much of that is thanks to the flexibility Gallardo offered.
---
Peralta doesn't need a handout
---

When the starting XI was announced an hour before the match, a certain segment of the Mexican press and fan base was upset. Rather than playing forward Oribe Peralta up top, Osorio opted to partner Javier Aquino with Raul Jimenez. Many called it a "lack of respect" for Peralta to call him in for the friendly matches and decline to start him in either game. The criticism has largely subsided after Aquino set up the winning goal and Peralta saw a full half of action, entering at the break.
The controversy is manufactured at best. Peralta isn't a better forward than Jimenez and wouldn't partner well with him, as the two have similar playing styles. Not only that, but Peralta doesn't need anyone to defend his honor. For several years, he's been the best Mexican striker in the domestic league, and that's still where he stands. The 33-year-old knows and understands his role with the national team. He can earn more time by showing he's better than the other forwards on the field. He hasn't done that, but is still a good option off the bench for El Tri. The idea that a manager doesn't respect a player because he called him in but didn't start him is a silly one.
---
Decent day for Jimenez
---

Raul Jimenez scored the winning goal for Mexico, getting a bit of luck to have the ball fall to his feet in the 13th minute but showing pure skill to finish it off and give Mexico the lead.
#TriTDN
¡Aquí el Gol de Jiménez y así se abre el marcador! pic.twitter.com/LNepRhoaya

— TDN (@tdn_twit) November 13, 2017
"One of our goals is to learn how to play with the lead," Osorio said. "I think the goal came in the 13th minute so we played almost 78 minutes with the lead and creating other opportunities. That makes us very satisfied."
The problem for Jimenez is the same as it always has been. He's playing on a team with Javier "Chicharito" Hernandez, and Chicharito shows no signs of losing his vicegrip on the starting center forward spot. Jimenez played on the wing earlier in Osorio's tenure, but with Hirving Lozano emerging as a star and other players like Carlos Vela, Jesus Corona and Javier Aquino also filling the role better than Jimenez, finding playing time could be tough.
If there's an injury or suspension, though, Jimenez seems ready to come in — despite his lack of minutes with Benfica.
"It's what you have to do. That's what I do on the field," Jimenez said of scoring his goal. "Fortunately, I was able to do it and luckily we were able to come away with the victory."
---
Araujo ready for step up
---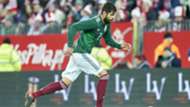 The plan likely was to give Araujo some rest after a long, trying shift in Belgium. He performed better than his defensive teammates, including Hector Moreno, and started on the bench. Plans changed when Carlos Salcedo went down with an apparent groin injury and the Santos Laguna defender came on for the second half of the match.
It was another good game for Araujo, who is one of the players Osorio highlighted when he came to Mexico and has seen his role grow ever since. He'll need to keep improving. Araujo is almost guaranteed to see at least one start in Russia, but while he's improving with his man marking and understanding of the system, El Tri still need more performances like the one Monday out of their defenders.
Exactly where he'll do that growth isn't clear. There were rumors this offseason that Araujo was Bundesliga bound, but he's stayed with Santos. Maybe opportunities will come, but what Mexico does not need is another defender sitting on a bench in Europe. Araujo is ready to take the next step, but the 26-year-old may be best served doing so this summer rather than forcing through a move and falling out of favor this summer.