Pulau Pinang
Zainal tasked with Penang's Super League survival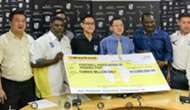 ---
 BY       OOI KIN FAI      Follow on Twitter
---
Penang Football Association (FA) moved to appoint Zainal Abidin Hassan as the new head coach following the dismissal of Ashley Westwood after the FA Cup exit to Negeri Sembilan prior to the international break. In an announcement made on Friday afternoon, the former Selangor and Pahang coach was installed as the new man in charge until the end of the season.
In announcing the appointment of Zainal, Zairil Johari who is also the President of Penang FA said that the former national player has a contract until the end of the 2017 season before a review will decide if he stays on beyond the existing season. 
Zairil referenced to the change that English Premier League club, Leicester City Football Club made by removing Claudio Ranieri and their seemingly revived fortunes as one which Penang is looking to emulate and has given Zainal the full responsibility of deciding if the current coaching staffs are to be maintained or not.
Penang Chief Minister, Lim Guan Eng was also present at the announcement and has pledged an additional RM3 million from the state government to be pumped into the team. Although the new coach is adamant that while he has plans in mind regarding changes to the playing staff, he wants to ensure that the current players gets a fair crack at the whip.
"I have to concentrate on what i have and the players will get their chance before we make a decision on them. I know most of the players. I got a tough job to get their morale and spirit high. i know they are capable of better," said Zainal on the possibility of making changes in the upcoming transfer window.
Zainal has not won the league title with any of his previous teams but has achieved cup success with Pahang. His sojourn with Selangor was a less happy one, lasting only half a season with the Red Giants.
Zainal is well aware of the criticism he had received due to the failed time with Selangor and is looking at the appointment as one that he and Penang can bounce back from the recent disappointments.
"I'm thankful for the chance and hopefully we'll bring back happier days to Penang," added Zainal.
Zainal's immediate task is to bring Penang out of the relegation zone and they currently sit bottom of the 12 teams league, six points adrift of the safety position. With over 60% of the league season still to go, Zainal do have time on his hands to turn things around at the Panthers and repair his own tarnished image.