FIFA 19
Will Usain Bolt be added to FIFA 19?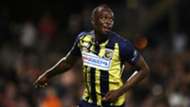 Not content with being the fastest man in the world, Usain Bolt has turned his attentions to football.
Like Michael Jordan and Deion Sanders before him, he has decided to try his hand at a different discipline after reaching the top of his own sport.
Bolt trained with Manchester United and Borussia Dortmund before being given a trial by A-League side Central Coast Mariners, where he netted twice in his first start for the club.
He has not yet been offered a contract by the Australian club, but has been linked with a move to Europe by his eager agent.
The big question for many sports fans is if Bolt does get a professional deal, will he be added to FIFA 19?
---
Will Bolt be in FIFA 19 Career Mode?
---
The database for FIFA 19's Career Mode and Online Seasons is updated on a regular basis, with player ratings, positions and potential ability regularly tweaked as the season goes on.
Some players even have their skill move and weak foot ratings changed by EA Sports, with fans of the game often petitioning the developers to make these changes following real-life developments.
As a result of this ongoing database development, players get added to the game after they sign for teams from any of the included leagues. This means that, if Bolt signs for Central Coast Mariners or any other team that is licensed in FIFA 19, he will be added quickly to the FIFA 19 database and then be available in Career Mode, Online Seasons and Kick Off modes.
Usually, the new additions to the database are young players who have been handed senior debuts at their clubs, but in previous FIFA games, players such as Carlos Tevez have been added or re-added after completing transfers to licensed teams.
However, Fox Sports Asia quoted an EA Sports source as claiming that if Bolt isn't picked up by the Australian team "he might be included as a free agent" and "will also be the fastest player in the game".
---
Will Bolt be added to FIFA Ultimate Team?
---
Unlike the other modes in FIFA 19, Ultimate Team is not as regularly updated with player upgrades or downgrades.
As a result, players will only get stats changes or ratings changes in January and February during the Winter Upgrade period. This happens after the close of the transfer window, with many players getting boosts in their ratings following impressive first halves of the season and other players being assigned to new clubs following January or deadline-day moves.
In the past, the Ultimate Team database was set at the start of the game, meaning that new players could not be added once the game was released. The only players that could be added were ones in the database, who had their own unique photos already.
However, FIFA 18 saw some new players added to FIFA Ultimate Team following the January transfer window, with 40 new names, including Yerry Mina, Giuseppe Rossi and Bacary Sagna introduced to the game after finding themselves new clubs.
Should Bolt sign with one of FIFA 19's licensed teams, he will be added to Ultimate Team during this period, but gamers will not get a chance to use him until February at the earliest.
---
Usain Bolt's pace in FIFA 19
---
Bolt is the fastest human ever. He has won eight Olympic gold medals on the track and also holds the world records for both the 100 metres and the 200m. Both of these records came in 2009, but he can still run a sub-10 second 100m as he did in 2017.
As a result, he would be the fastest player in FIFA 19. At the moment, there are two players with a 96 pace rating in FIFA 19: Kylian Mbappe and Adama Traore. This is made up of a combination of their sprint speed and acceleration, with the overall score an average of the two statistics.
Bolt would definitely have a higher rating than this and may even have a 99 pace rating, which is usually only seen on Team of the Year or Team of the Season items, like Leon Bailey's Bundesliga Team of the Season version last season.