Chelsea
Why Chelsea have yet to see the real Tiemoue Bakayoko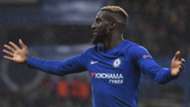 When Chelsea announced the signing of Tiemoue Bakayoko from Monaco in the summer for €40 million, there was naturally a great deal expected of the young Frenchman.
It was taken as a given that he would pin down a position at the heart of the Premier League champions' midfield. However, Bakayoko's assimilation has been dually handicapped by having to adapt to a new country, while at the same time dealing with constantly unflattering comparisons with the man he had effectively replaced in the Blues' engine room, Nemanja Matic, who had been one of Antonio Conte's most trusted soldiers.
Six months on, it is fair to say that Bakayoko has failed to live up to his billing but Conte launched an impassioned defence of the player on Tuesday, after the France international had netted in a 3-1 win at Huddersfield.
"He played a really good game tonight," the Italian enthused. "I'm very happy for him. This player we're talking about a player who is 23 years old and I think he is adapting himself in our idea of football and tonight maybe I saw the best performance from 'Baka'.
"I repeat I'm not worried about him. 'Baka' is a young player and now he's starting to understand he's in a club like Chelsea, a great club, and I'm very happy because he's showing me to have the right desire, the right will, to improve himself to try to be better."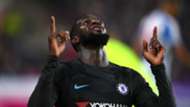 There is no denying, though, that Chelsea fans have not yet seen the Bakayoko who was such a formidable force for Monaco last season, as they stunned the world by beating Paris Saint-Germain to the Ligue 1 title and charged their way into the semi-finals of the Champions League.
Bakayoko was at the centre of their whirlwind of attacking football, having formed a formidable partnership with Fabinho in the middle of the park that allowed the likes of Bernardo Silva and Thomas Lemar to wreak havoc.
In terms of raw statistics, the Blues could not have hoped for better. Bakayoko scored only three goals for Monaco throughout the duration of last term and laid on only two more. He has already matched his scoring tally in just 21 outings for the Blues, while he has surpassed last season's haul of assists. 
It is his all-round performances that have let him down, though, and he has struggled dismally from a defensive perspective. Frank Lampard pointed this out following a particularly poor display against Liverpool at Anfield.
"When you're a Chelsea midfielder, going to Liverpool, you have to understand that you can't affect the game on the ball all the time," the Blues legend told BT Sport.
"One thing you can do is be 'at it' without the ball: close people down, and when you close people down, you're not just helping yourself, you're helping the next person, you are making that pass harder to make — and today he didn't do it.
"He was too slow getting there, he let people get their head up and play whatever pass they wanted to. There's only so long that you can make these sorts of excuses."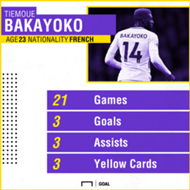 Adaption to the speed of the Premier League game may be one excuse used by the player to absolve himself of responsibility – it took him the best part of 18 months to really settle at Monaco – but the truth is that Bakayoko has not looked at himself for several months now.
His problems seem to emanate from his international debut, when France were roundly beaten 2-0 at home by Spain in late March.
Bakayoko was introduced at half-time for Paris Saint-Germain's Adrien Rabiot with the match still scoreless, yet he had a nightmare introduction, as he was the source of the visitors' opening goal and was sloppy with possession in a manner completely unexpected at the time but one to which Chelsea fans have grown accustomed.
In summing his performance up, L'Equipe warned that "he must hope that he is not traumatised" by his display, yet he has never really recovered.
Monaco's inability to even compete against Juventus in the Champions League semi-final, which they lost 4-1 on aggregate, was partially due to his inability to impose himself on the proceedings. Just as he had been for France against Spain, Bakayoko was the weak link in the first leg at Stade Louis II, a decisive 2-0 defeat. 
"He's someone who needs confidence," former Rennes youth team coach Yannick Menu told Le Parisien before the summer and it is this very attribute that he appears to be lacking currently. 
The best all-round midfielder in Ligue 1 last season simply has to rediscover his self-belief if he is to succeed in England. The hope will be that his midweek strike at Huddersfield will be the first step towards doing just that.