Arsenal
Wenger IN or OUT? Watch Arsenal fans have their say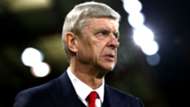 It's not a new things for fans to be calling for Arsene Wenger to be relieved of his position as Arsenal manager, but we appear to be at a point where the cries to cull the Frenchman have never been louder.
Many of us live in our own bubbles, however, so Goal's own Gunners correspondent Chris Wheatley headed into the heart of the Arsenal fanbase to see what the die-hard followers make of it all.
Do you think Wenger should stay or go? Let us know in the comments below!