Chelsea
Walters slams 'sore losers' at Chelsea and Arsenal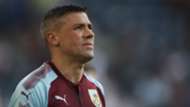 Burnley striker Jonathan Walters has ripped into Chelsea and Arsenal, saying both teams are full of "sore losers".
Walters has recent first-hand experience of Chelsea's behaviour following a defeat, as he was part of the Burnley team that defeated the Blues 3-2 in their opening Premier League fixture last weekend.
Chelsea 14/1 to win Champions League
And in an interview with The Times, the Republic of Ireland international slammed the two London-based clubs for their behaviour following reverses.
"I'll always shake hands afterwards with players, the manager, wish them the best," Walters said. 
"I always think, 'Be graceful in defeat, don't over-egg it when you win.'
"You get sore losers but then they're at Chelsea for a reason - maybe they're sore losers and that drives them.
"Arsenal are the worst for sore losers."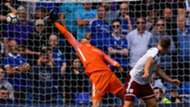 Chelsea's form surprised Walters, who thinks the defending champions will be hurt by two absences this season. 
"Last year at the back, they [Chelsea] were strong, big, and horrible with [Nemanja] Matic sitting in front of them, a tough lad. Serbs are hard," Walters said
"Most of the Burnley lads were very surprised he went to [Manchester] United as well.
"They haven't got Diego Costa upfront. Everyone hated him but you'd love to have him in the team, he's brilliant, he's the best at winding people up.
"But you could get to him in his head.
"Chelsea were a bit lightweight. We didn't bully them either. I was watching our goals again, excellent goals, quick play, cross in the box, goal.
"It wasn't like we lumped them in the box. Chelsea need to buck up a bit."