eSports
VIDEO: Watch the Football Manager Documentary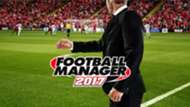 Ahead of the FREE to play weekend of Football Manager 2017 (Fri 24th - Sun 26th March) Football Manager have released their fascinating documentary exclusively to Goal.
To play the game for free, head to Steam over the weekend: http://www.footballmanager.com/news/play-football-manager-free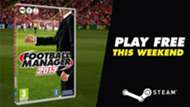 Having captured the hearts and minds of generations of football fans, Football Manager is about to move to a whole new level in An Alternative Reality: The Football Manager Documentary, a feature-length film which examines the game's enduring appeal, its impact on the culture of football and its influence within the professional game.
Narrated by BAFTA-winning actress Vicky McClure (This Is England, Broadchurch), the film features contributions from football managers (Ole Gunnar Solskjaer, Alex McLeish), international footballers (Andros Townsend, Demetrio Albertini) and musicians (Paolo Nutini, Jon McClure) as well as a variety of Football Manager fans from the worlds of sport, media and everyday life.
Watch the full documentary above!