Videos
VIDEO: Studs Up is back for episode 10!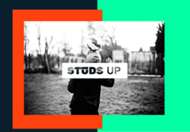 Studs Up is back!
This week Nathan, James and Rachel look back at the Manchester derby and they are joined on the show by Chelsea-loving vlogger George Benson to look ahead to the upcoming game against Everton.
Meanwhile, the guys were at the Toffees' training ground Finch Farm, where England star Ross Barkley took a late goals challenge and Rory looked back at his Worst of the Week.
Studs Up airs every Thursday at 8pm (GMT) on Facebook. Join us in taking a lighter look at the world of football!
To make sure you don't miss the show, register your interest on Facebook and we'll let you know when Studs Up is going live.