Videos
VIDEO: Neymar, Aguero and other aces attempt football tennis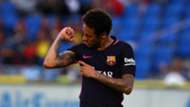 The 2017 French Open is currently underway at Roland Garros in Paris, with the world's biggest tennis stars looking to win the open title and scoop almost $2 million in prize money.
With the world's biggest football leagues on their summer off-seasons and no major international tournament taking place, many of the world's biggest stars will be in attendance.
Vinicius Jr: I'm going to play with Ronaldo
Rafael Nadal is looking to win a record 10th men's title and is truly one of the best players ever on clay. But how would football's finest survive if they attempted to switch sports.
During training, many football clubs and teams have gotten in on the act by playing football-tennis (or soccer-tennis) with very mixed results.
Neymar and Barcelona, Robert Lewandowski and Bayern Munich, Sergio Aguero's Manchester City vs David Villa's New York City, and even Joe Hart with England have all gotten in on the act. Check out their efforts below!
What about Nadal? Would he be any good at football-tennis? Judge for yourself in this clip of him taking on Novak Djokovic.
Djokovic won the 2016 French Open title, defeating Andy Murray in the final, while Serena Williams will be looking to better last year's second-place finish, having lost to Garbine Muguruza.