Cristiano Ronaldo
VIDEO: Cristiano Ronaldo's son scores impressive free kick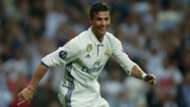 Cristiano Ronaldo may have left many people in further awe of him on Tuesday when he scored a hat-trick to send Real Madrid into the semi-finals of the Champions League.
Perez wants a Galactico signing as Real Madrid elections near
But, while the Portuguese star and Ballon d'Or holder may be at the pinnacle of the game right now, it seems even he can be stunned by the exploits of some.
Days after his heroics in the Santiago Bernabeu, the 32-year-old showed that the talent runs in the family when he posted a video on Instagram of his son scoring a free kick.
After winning a free-kick, Cristiano Jr copied his father's stance and style and sent it sailing into the net.
An excellent shot, the 32-year-old was well impressed by what he say, posting: "So proud of my little man. What a goal."
Check it out above!