PSG
Verratti is my inspiration, reveals young PSG star Callegari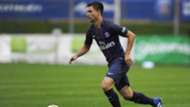 ---
EXCLUSIVE
---
Paris Saint-Germain starlet Lorenzo Callegari does not need to look far to draw his inspiration, as he admires the style of team-mate Marco Verratti and seeks to emulate the Italian where possible.
Callegari was placed 32nd in Goal's NxGn ranking, which rates the world's greatest footballing talents born in 1998 or later, and the young Frenchman has numerous role models around him at Parc des Princes.
Primary among those is Verratti, who has developed his game in France since moving from Pescara in 2012 and is now considered one of the best midfielders in the world. And it is the 24-year-old Italy international that Callegari models his game on, even if he does not wish to replicate his club-mate entirely.
"There's only one Marco Verratti," he told Goal. "He's a player I admire a lot and I'm inspired by him, but Marco Verratti is Marco Verratti. I am who I am. I don't think I can be compared to him.
"In his position, there are few people who can do what he can. He takes a lot of risks in his game. I can do it, but he does it and is successful. His big quality is to try things. I'm at a position where I can try less. If I lose the ball, it's a bit more complicated.
Kluivert: I want to join Barcelona
"On a footballing level, there are some resemblances, but it's more on a physical level."
Callegari is a young midfielder sure of his qualities.
"I'd say that my passing is of good quality," he continued. "I'm not very fast but I am quite stocky. I can hold my own during a game.
"I don't like to praise myself too much, but people say I'm good with the ball. I make mistakes like everyone else, I think technically I've got good qualities.
"I can progress more defensively. I have to make more effort and work more for the team to win more balls. There are other areas I can improve, but that is the main one."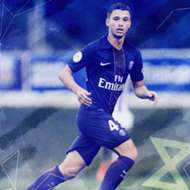 Thiago Motta remains PSG's primary defensive midfielder, but Italian is not someone Callegari wishes to emulate.
"I look at him off and on the field. He has a certain serenity that is sometimes disconcerting," he said. "I don't want to resemble him, but do what he does and, by working, bring my skillset closer to his."
The 19-year-old has already made his Ligue 1 debut for the capital side, albeit only featuring for three minutes after coming on as a substitute earlier this season against Angers, having also appeared against Real Madrid in pre-season.
"The tour went well for me, especially that match," he said. "Real Madrid are a big team, a reference in world football. I had a lot of fun playing against them. It is a great memory, and a great experience I hope will serve me well in my future – especially my feint on Isco!
"Facing Angers was only the beginning. It was only coming off the bench in Ligue 1, although it was obviously special for me since I was training at PSG. There are many who dream of that experience, but it is a source of pride and not an end in itself."
Since Unai Emery arrived at PSG last summer, youngsters have increasingly been given their chance to shine in the first team, with Adrien Rabiot and Christopher Nkunku two to have particularly caught the eye.
"Christopher and Adrien are examples for everyone," Callegari agreed. "They went through the training centre, worked and deserve to be where they are.
"We are realising that there are young players who can make their mark little by little, despite the big competition. Mentally, it makes us want to work and achieve what they have. If the work is done well, sooner or later there will be a result. You have to take the time and not rush everything."